Returning from Ecuador, I was determined to go on a motorcycle-sidecar adventure with Baylor. I had a limited budget, no motorcycle driving experience and very little mechanical knowledge. But I was stubbornly determined. And, as it turns out, that's enough to turn to a dream into a reality.
Phase 1
Researching, Trucking &
Putting the Cart Before the Horse
For months I researched sidecars, asked for advice on various forums and scoured Searchtempest looking for used sidecars across the country.
I oscillated from one setup to the next. Rigs that were already setup, unattached sidecars, big ol' goldwing sidecars, tiny vespa sidecars and everything in between.
But after riding on the back of a DR650 in Ecuador, I really had my heart set on a dual sport. To me, the most fun part of riding was getting off the beaten path. General opinion was that it would be unwise and difficult to make a sidecar work with a dual sport.
I rarely listen to general opinion.
My focus went to getting an unattached sidecar that I could hook to a bike of my choosing. And in late April a sidecar came available in north eastern Washington. Within driving distance and with an $800 price tag I could afford, I called about it immediately.
To maximize use of the Mom-loaned truck, Mission Ladies Who Truck was launched. A mission to haul broken down vehicles for friends, take odd photos in bird masks and get a sidecar.
Step 1. Load motorcycle in Bend, OR and haul to Portland.
Step 2. Procure bird masks
Step 3. Pick up dead VW from Portland shop
Step 4. Haul to Vancouver, BC
Step 5. Unload at Vancouver mechanic and get Canadian friend on ferry home
Step 6. Get a sidecar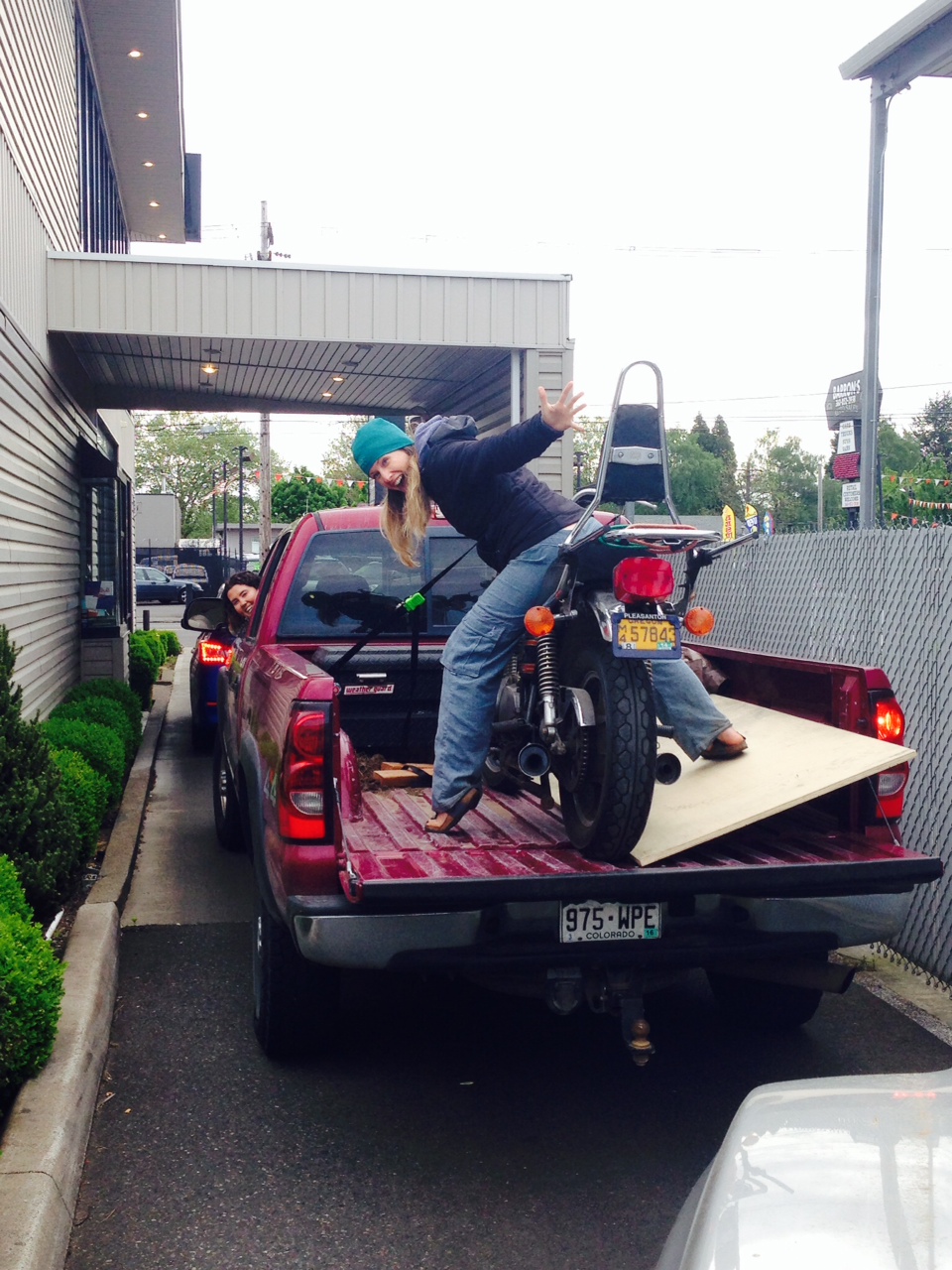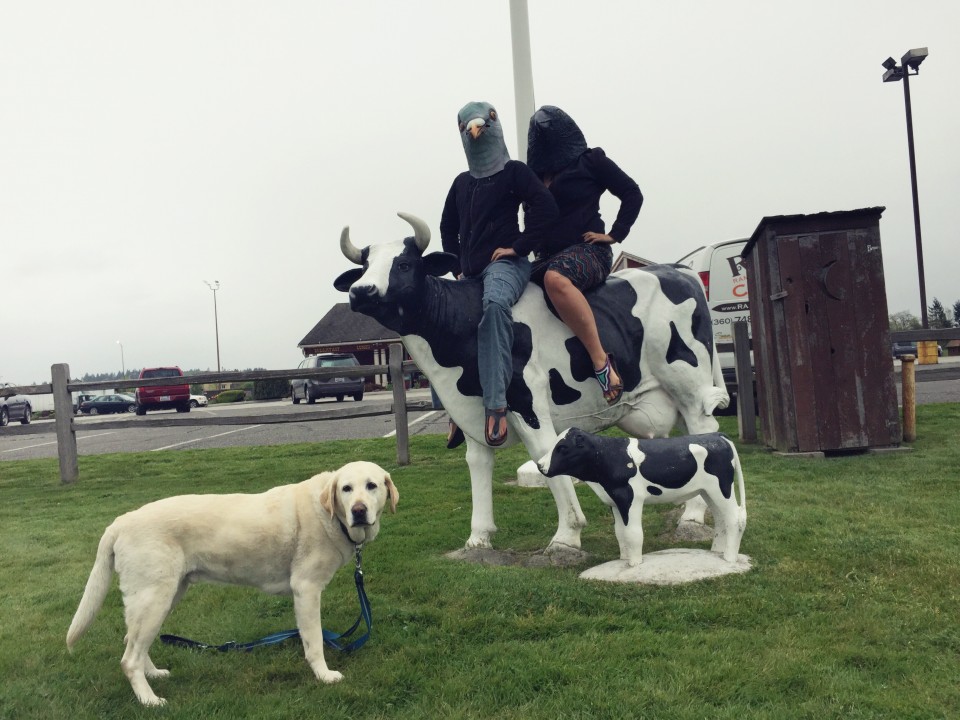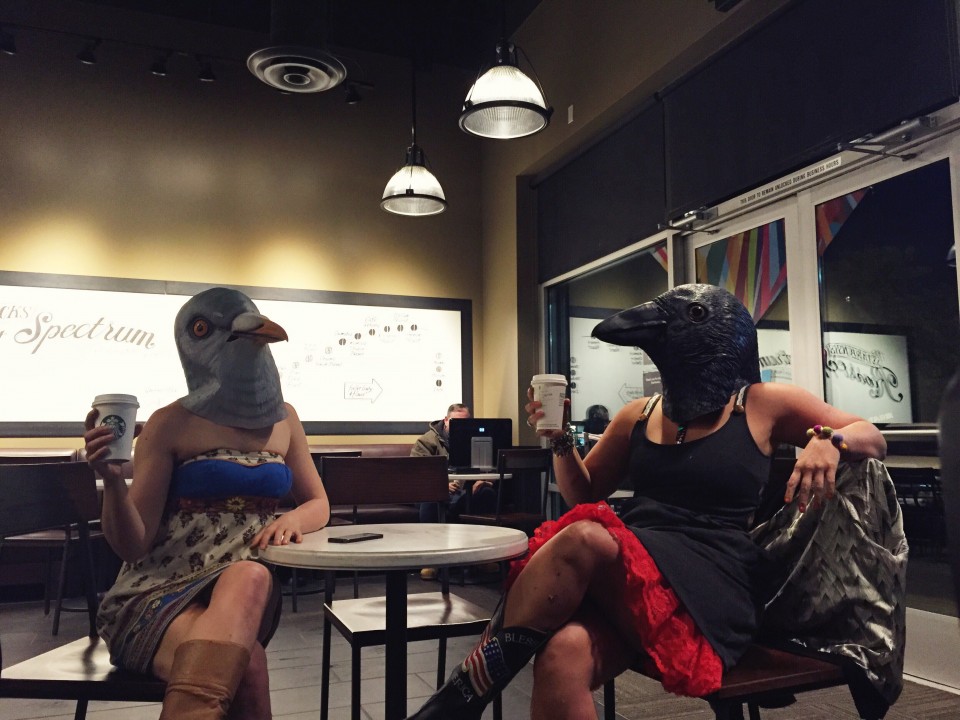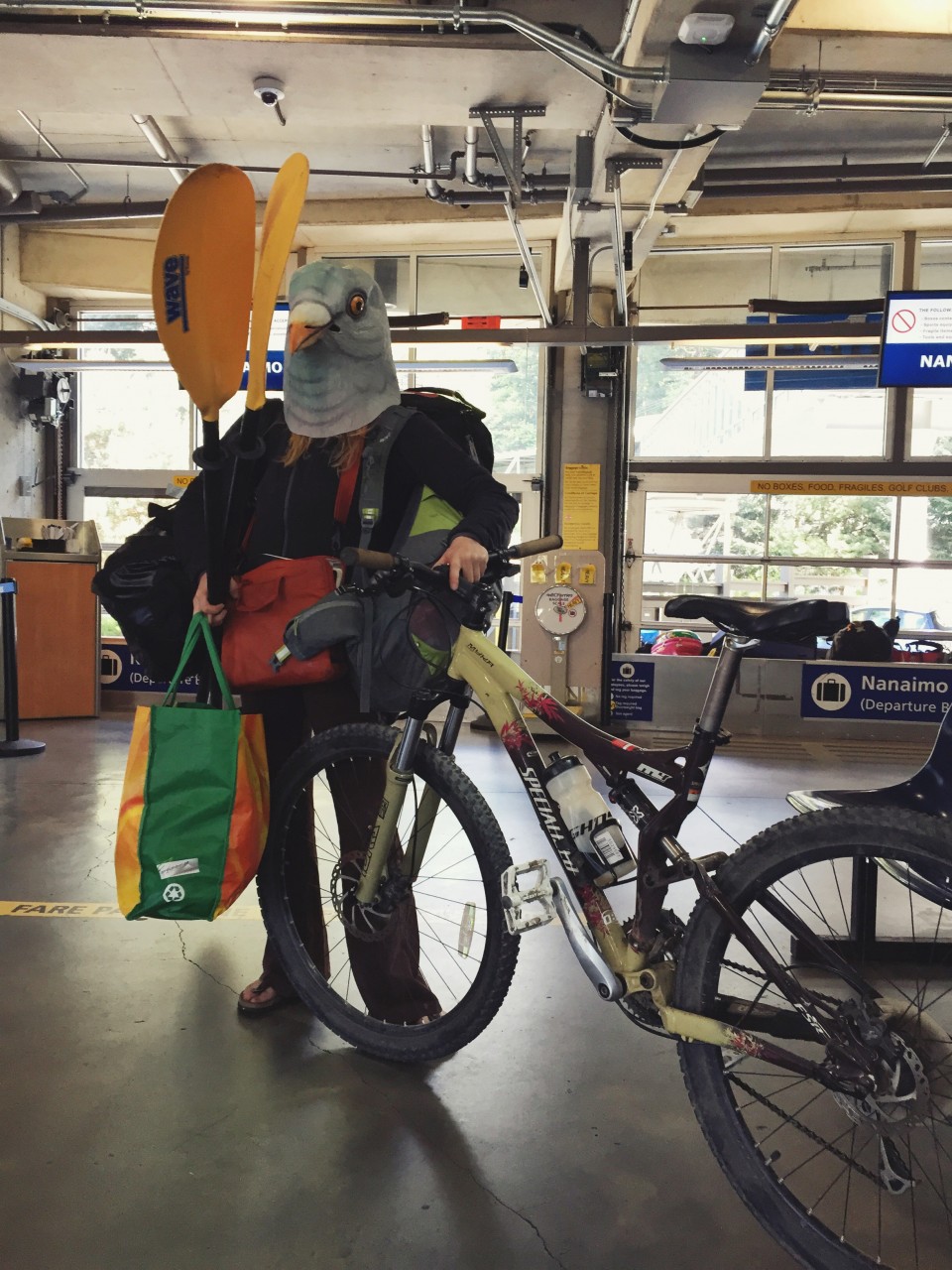 LWT Mission Accomplished. Onto the Sidecar.
I didn't even know what type of sidecar it was and neither did the man selling it. He had bought it used years and years ago from a man who also had never put it on a motorcycle. But Baylor tested it and approved, so we snapped it up and headed back to Bend, OR.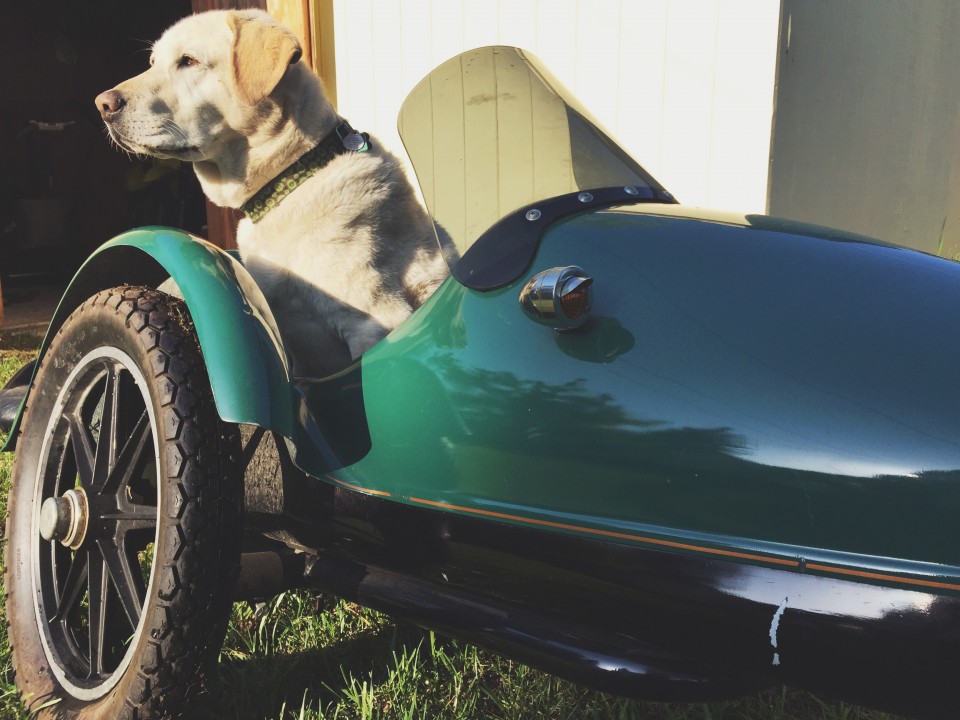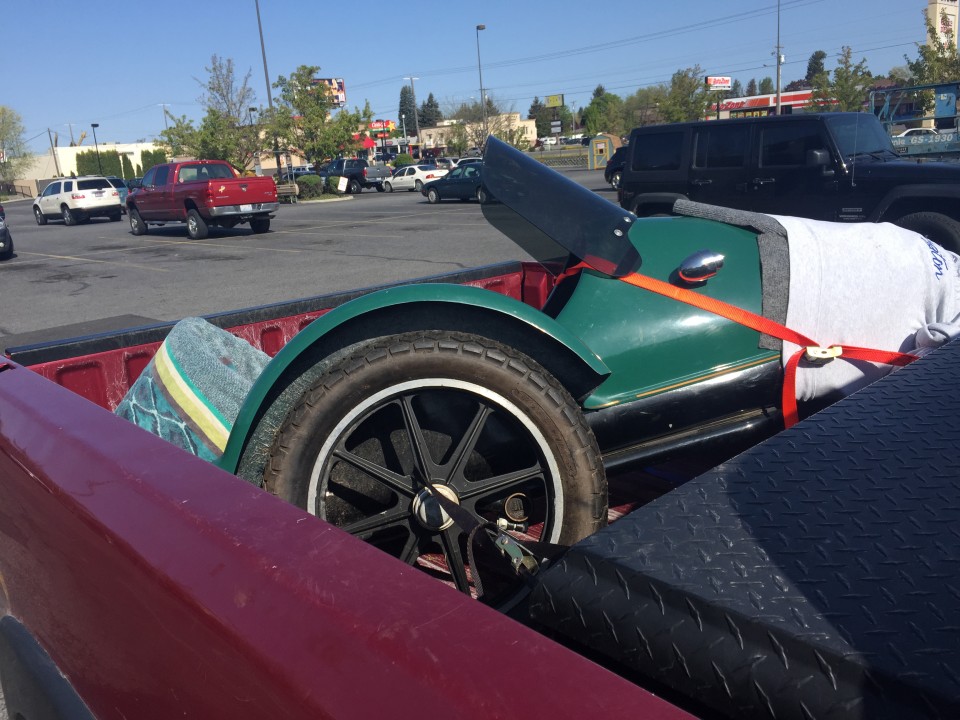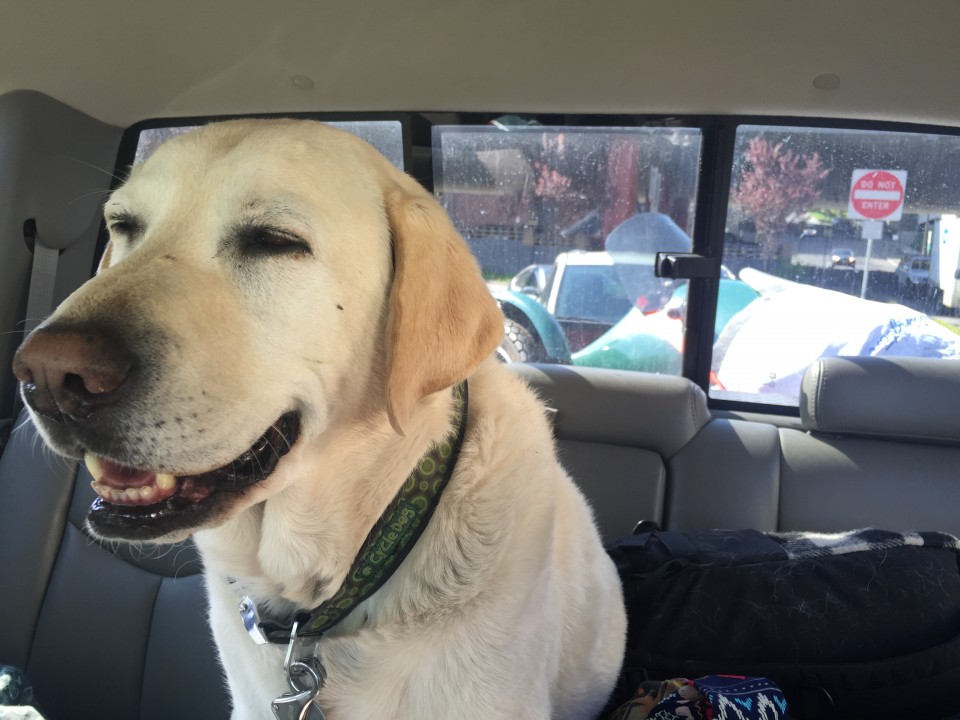 Phase 2
A Bike & The Brink of Defeat
Sidecar in hand, I needed a motorcycle. I researched, obsessed and read advice. Completely overcome with decision fatigue and ignoring general opinion, I bought a local used 1998 KLR650. Having still never driven a motorcycle at this point (I was signed up to take my safety moto license course the following weekend) we rolled the bike into the pickup and I was off.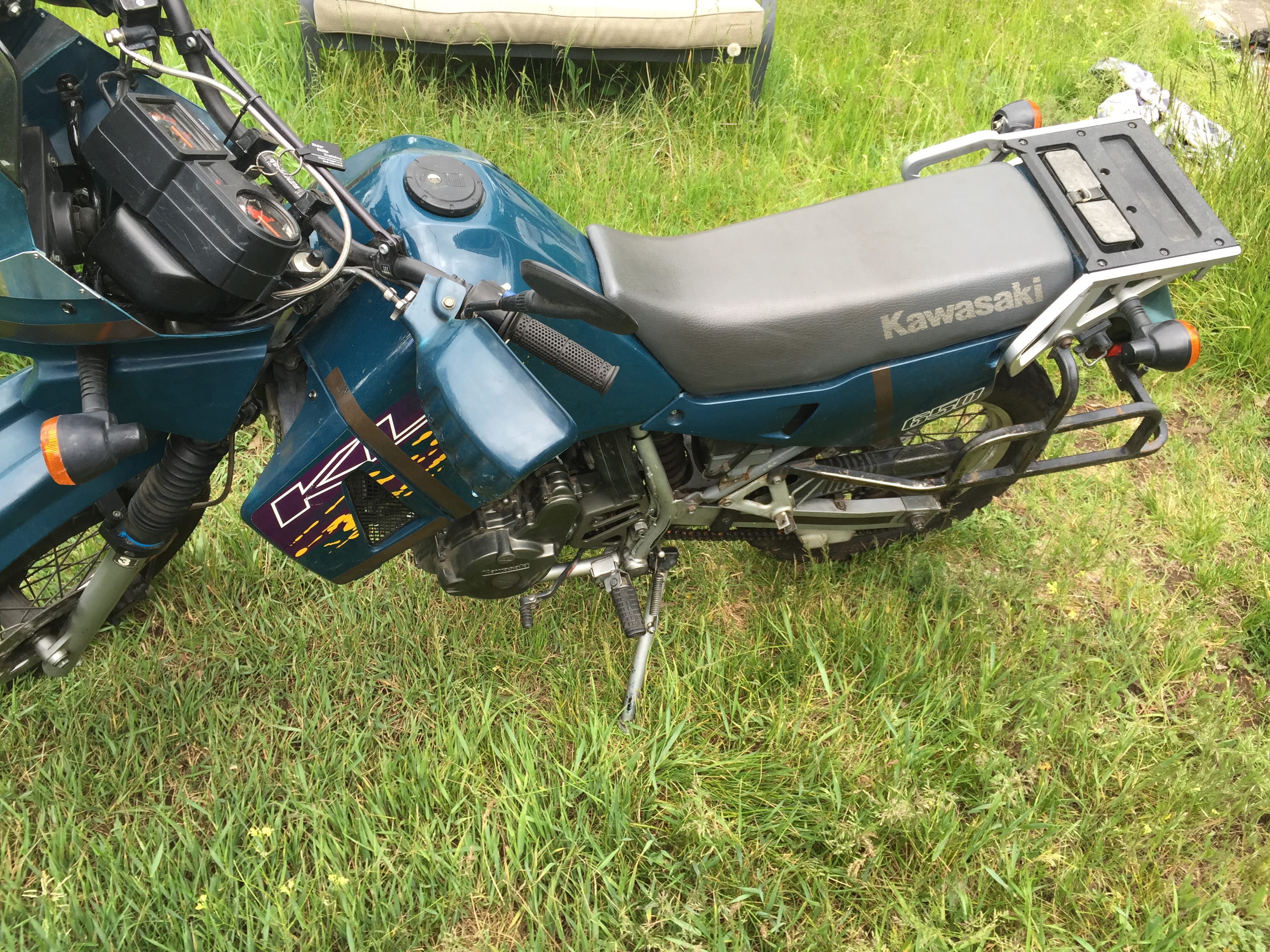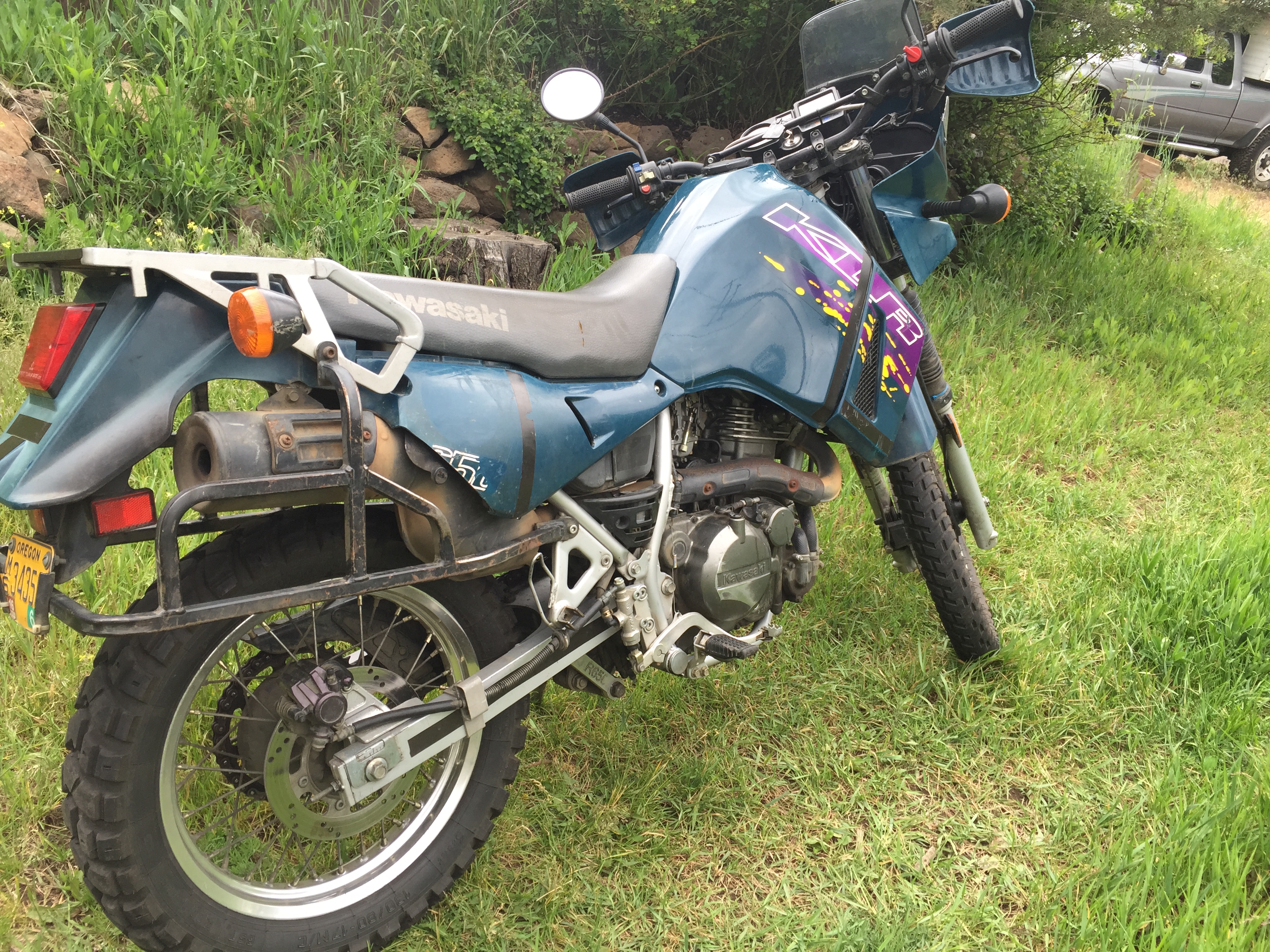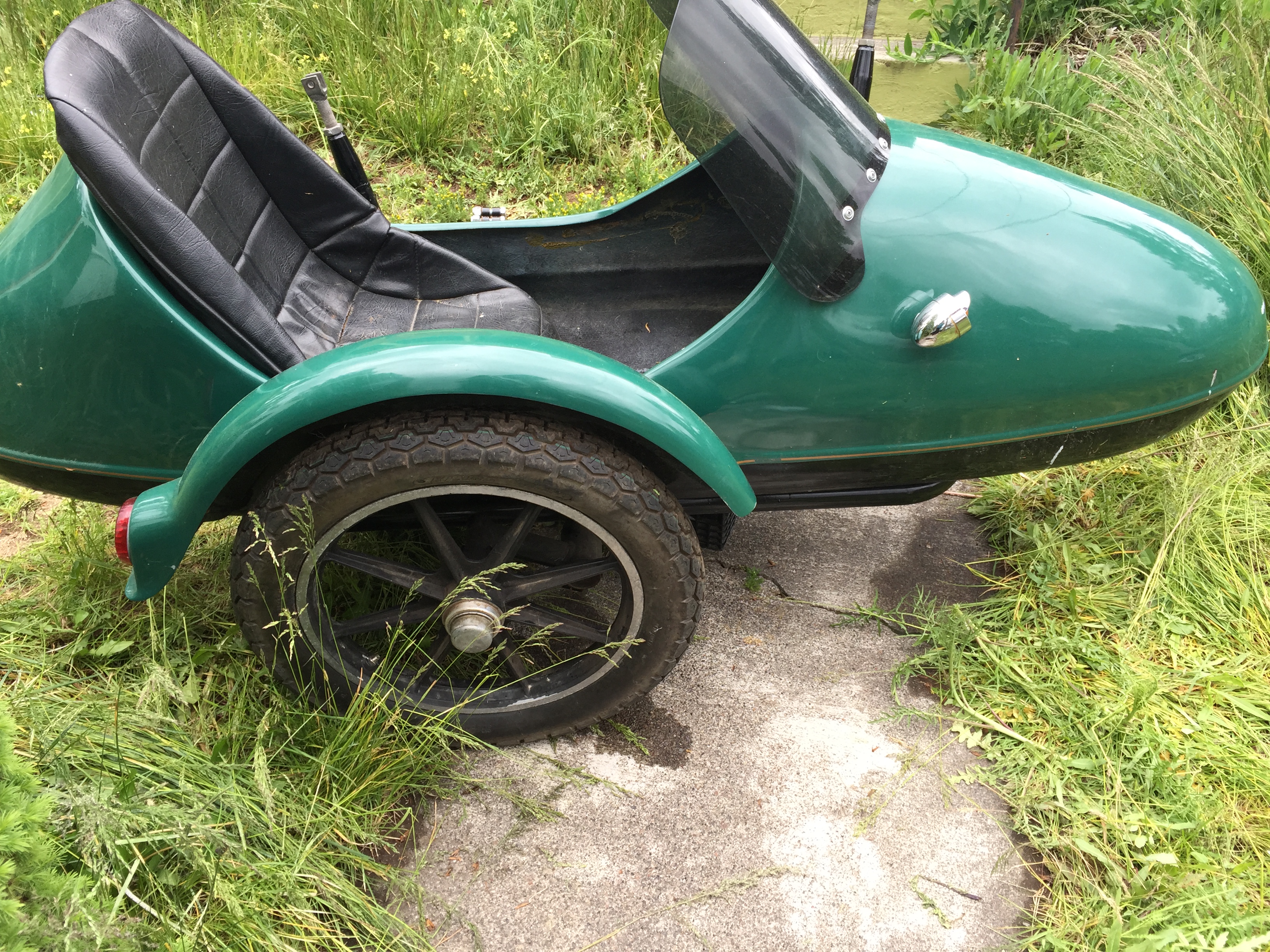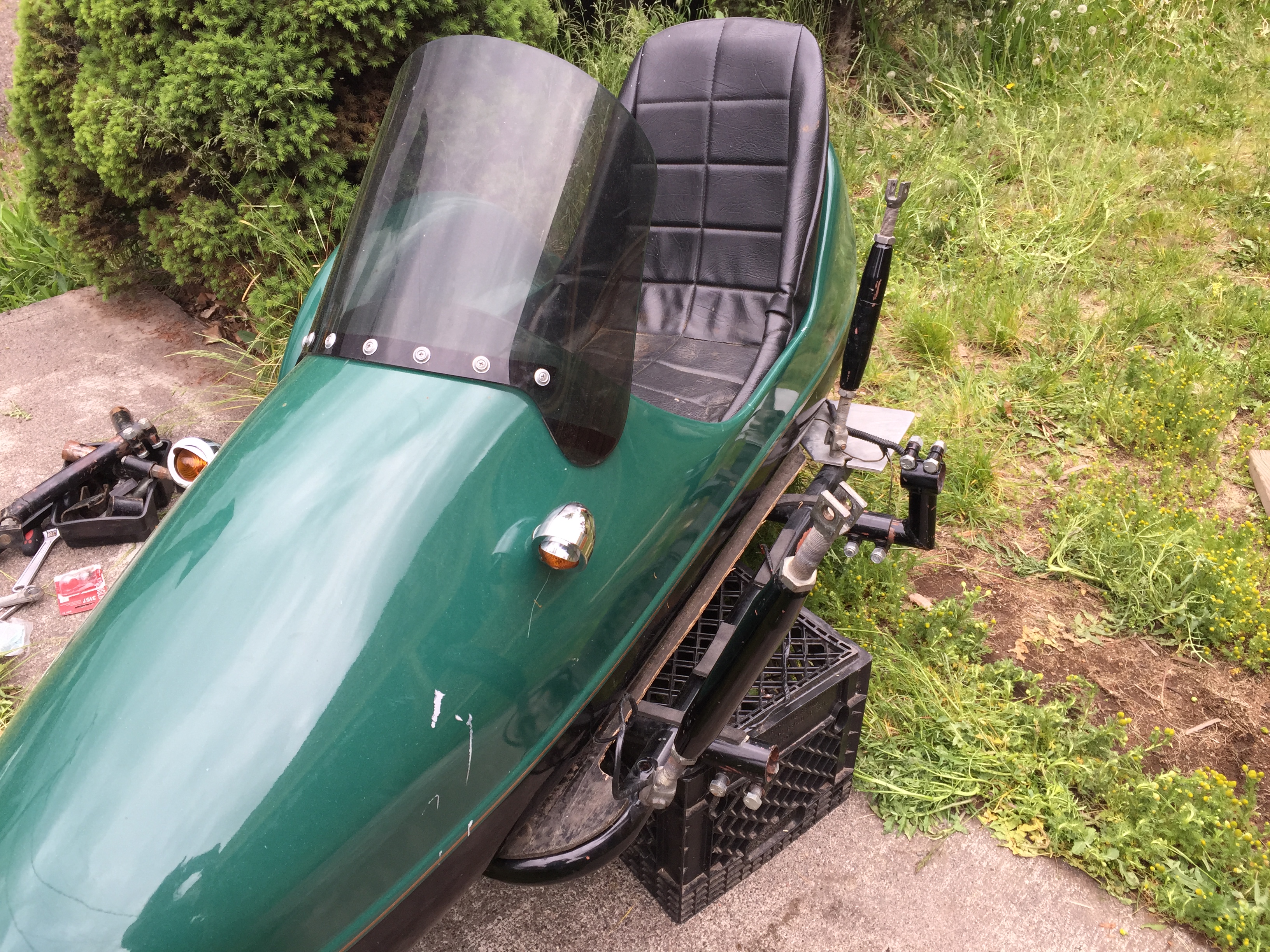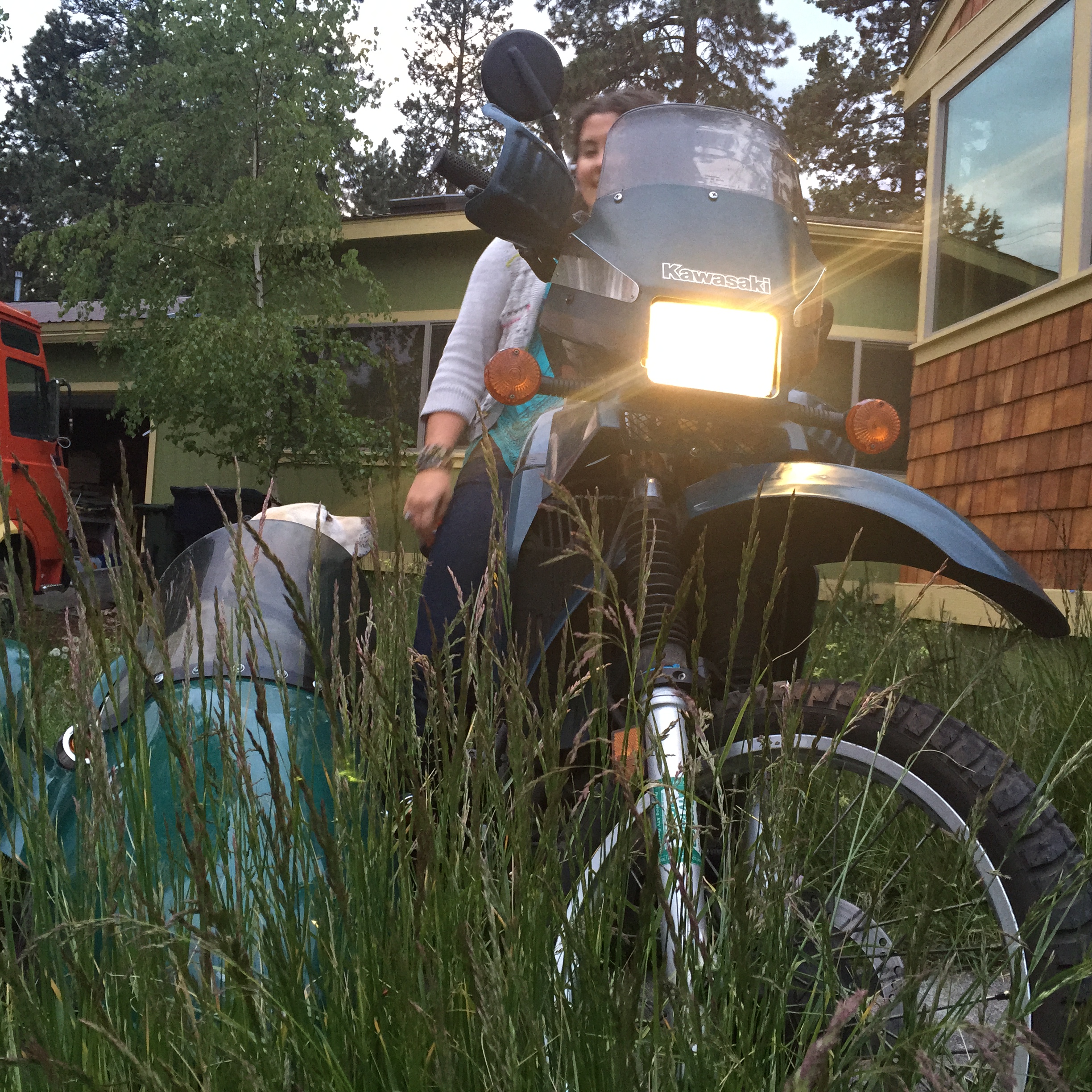 By this point it was late May and I wanted to leave for Alaska by June 9th. I set the bike and sidecar next to each other. Stared at them for hours. Researched sidecar attachments. Talked to experts who told me I was crazy:
No way! It can't be done. Building a subframe would take at least 6 months.

Yes, you could order one from us, but it will take months before it's ready. And don't even consider making one yourself. People have done that and it's a disaster that will fail.

Even if you do get it attached, you don't have the experience needed to get to Alaska. There's no way you can do it this summer
I was ready to give up. Maybe everyone was right. Maybe this was impossible.
I stared out at the river. Had my darkest hour. Looked at my friends – friends who believed in me, but had no mechanical skills to solve my dilemma – and said, I don't think I can figure this out. I might have to give up.
Operation Moto Dog seemed doomed to fail before we'd even begun.
Phase 3
Finding my Can-Do Community
I found the answer! There was a flyer for this new place opening up, the DIY Cave. It's a community work-space and they have a welding class tonight. You need to go talk to them, Chelsey told me excitedly.
So I went. Blended in with the rest of the group. Took my turn cutting metal scraps and putting them back together.
Class complete, I loitered until my classmates had left. Looked at Tim and launched into my spiel, So here's the thing, I've got a bike and I've got a sidecar and they need to be attached to each other. I've done research, have ideas, but I don't have any metal skill or space to work in. Oh and I want to leave for Alaska in two weeks.
I held my breath, ready for yet another "you're crazy and will fail" speech.
Sounds like quite the project. Can you bring it in tomorrow morning?
I grinned. Practically skipped out of the shop. Operation Moto Dog was a go.
Phase 4
Focus & Building the Beast
I can't rave enough about the awesomeness of the DIY Cave, the undeniable power of finding a Can-Do Community.
Having the minds, support, and tools available made all the difference. I would not be traveling across North America right now, if not for the men of the cave and their families.
I had a file full of ideas, but without any metalworking knowledge, it was hard to know what was possible and where to begin. Tim and Curry made it possible to move from ideas to building.
With my ideas, Curry's sketch and Tim showing me how to use tools along the way, I leapt into action.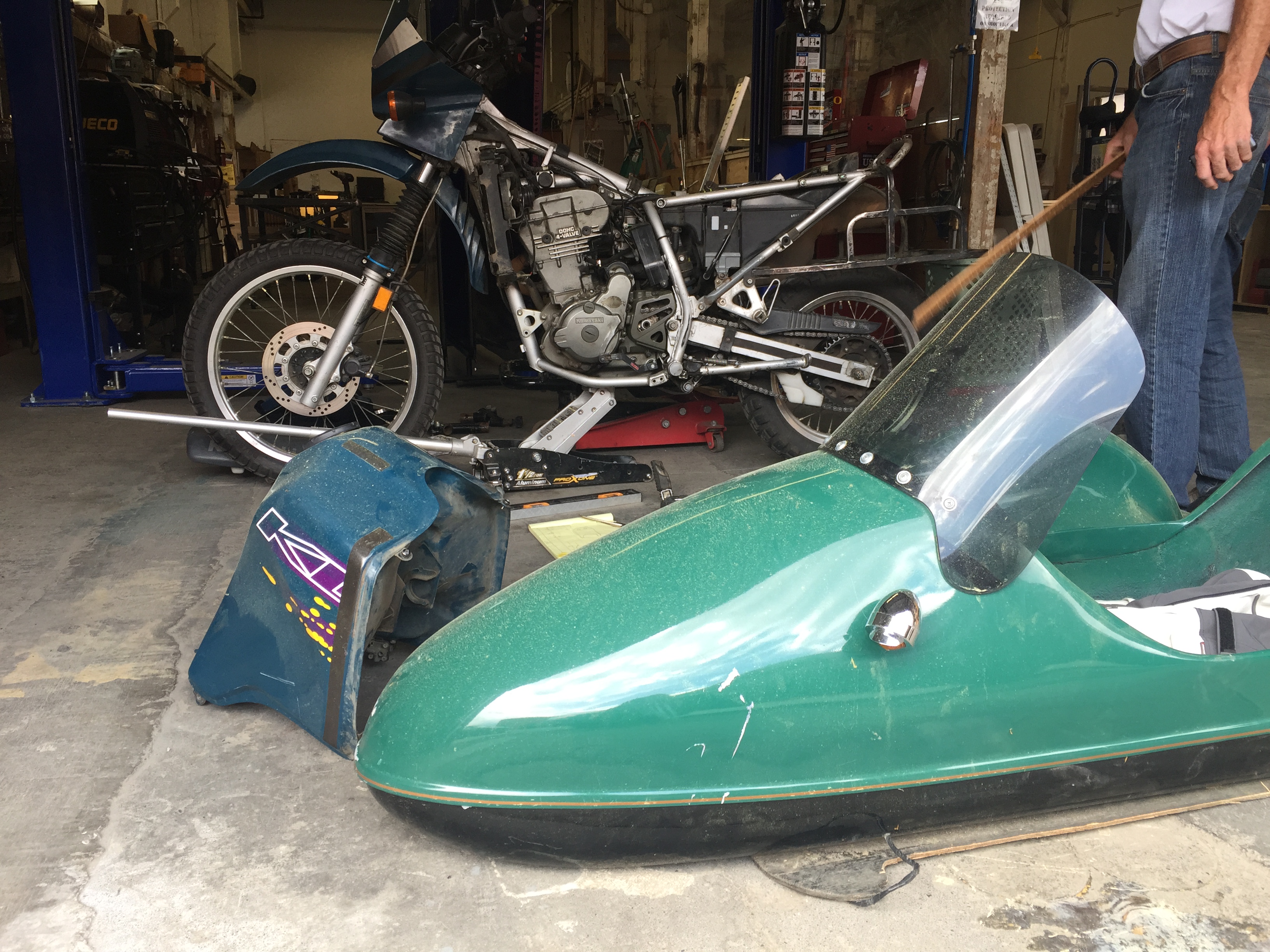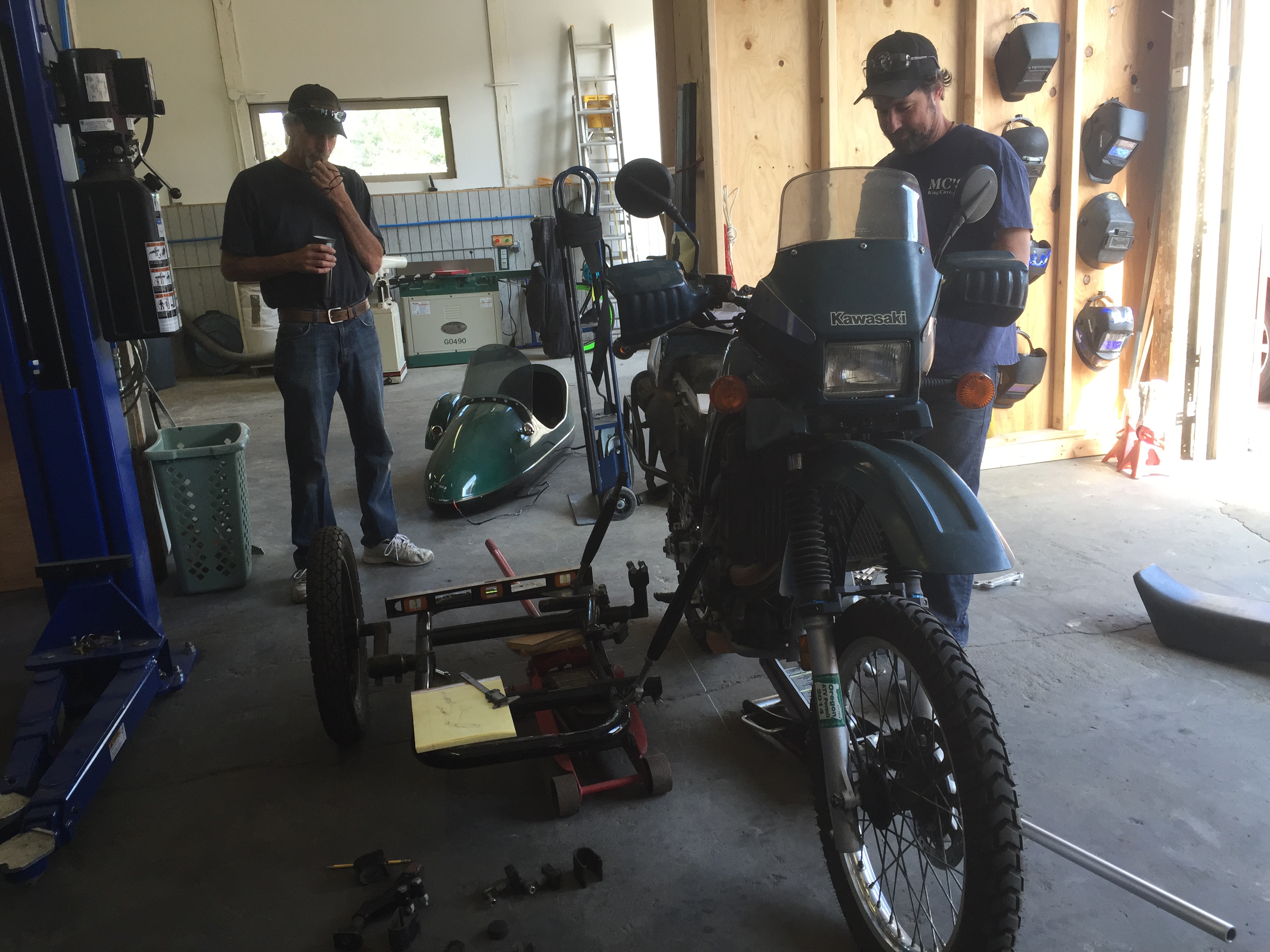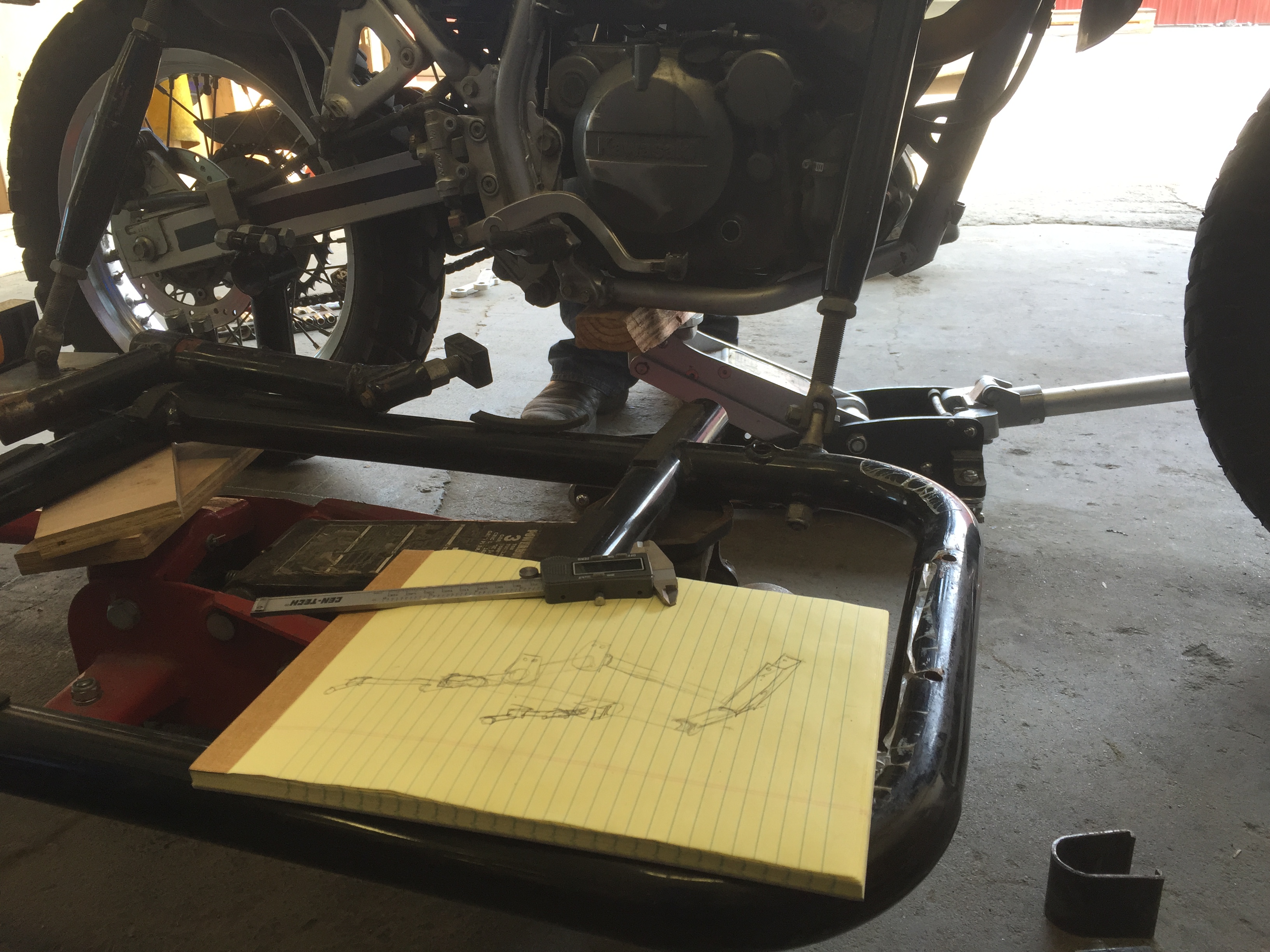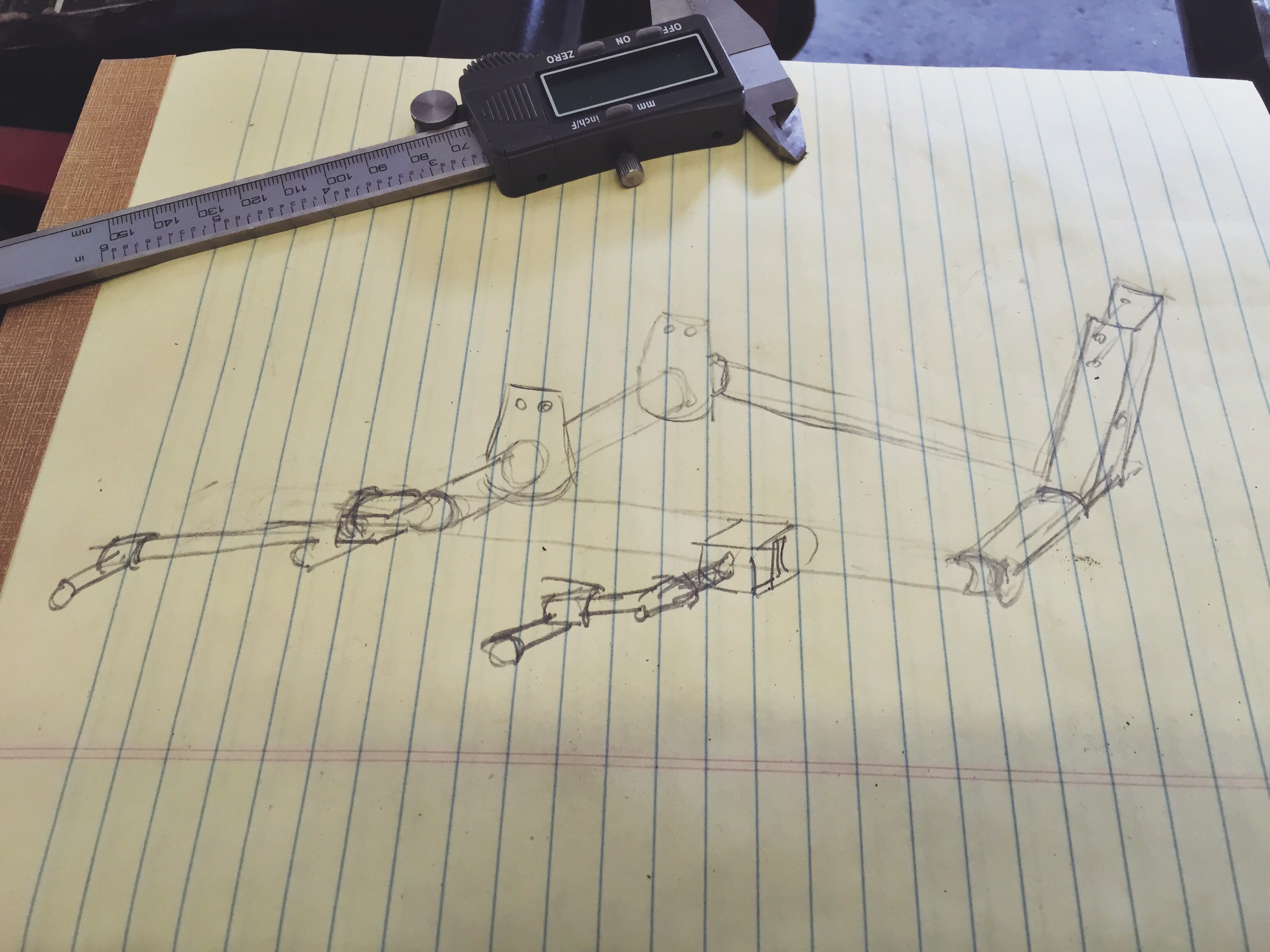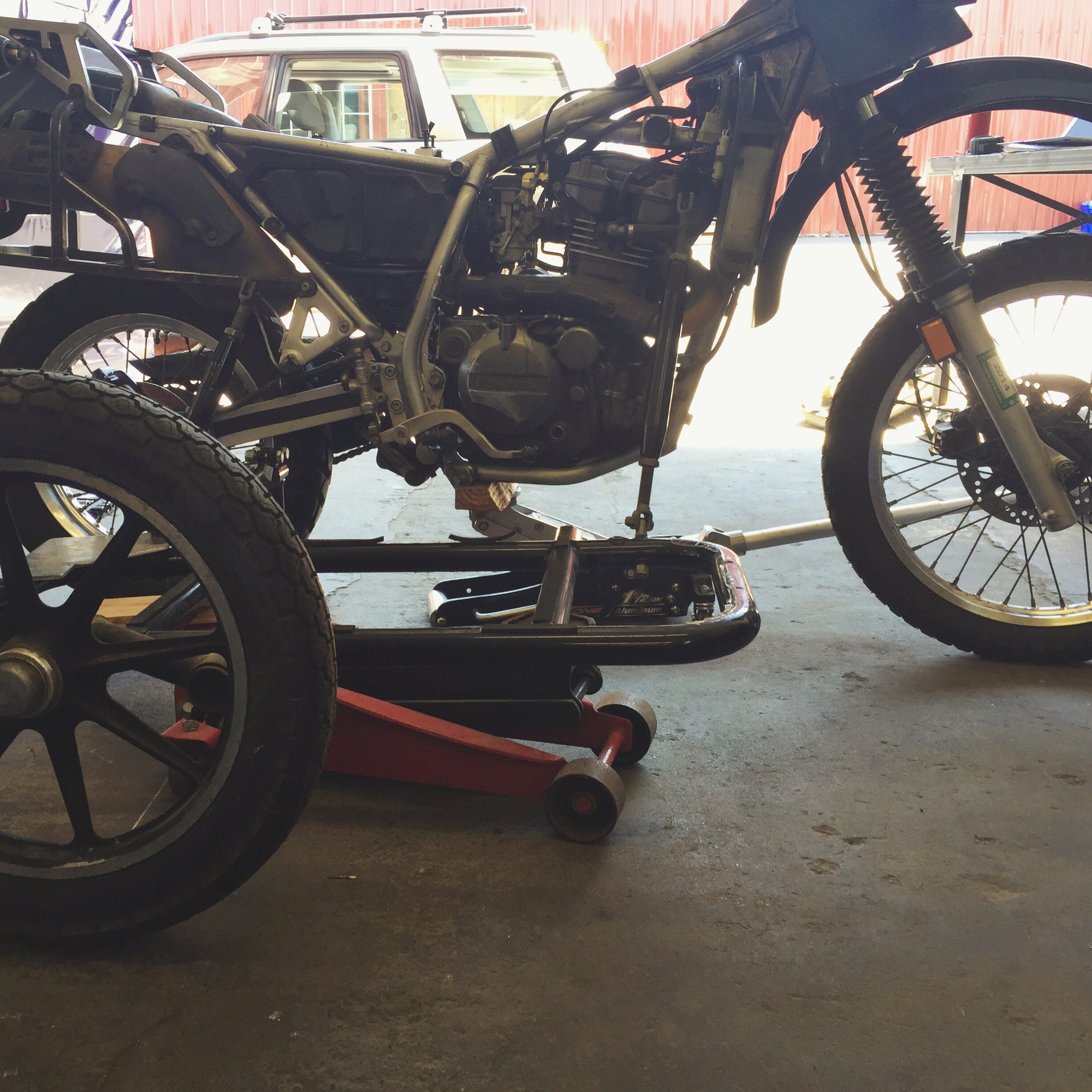 For two weeks I arrived at the shop when they opened and worked until they kicked me out in the evenings.
Alaska in mind, I maintained obsessive focus.
Dude visiting shop:Can I take you out to lunch?
Me: Sorry, no. I'm on a mission.
Friends: Want to go swimming/float the river/come over for dinner?
Me: Can't, I'm on a mission. Have to stay focused.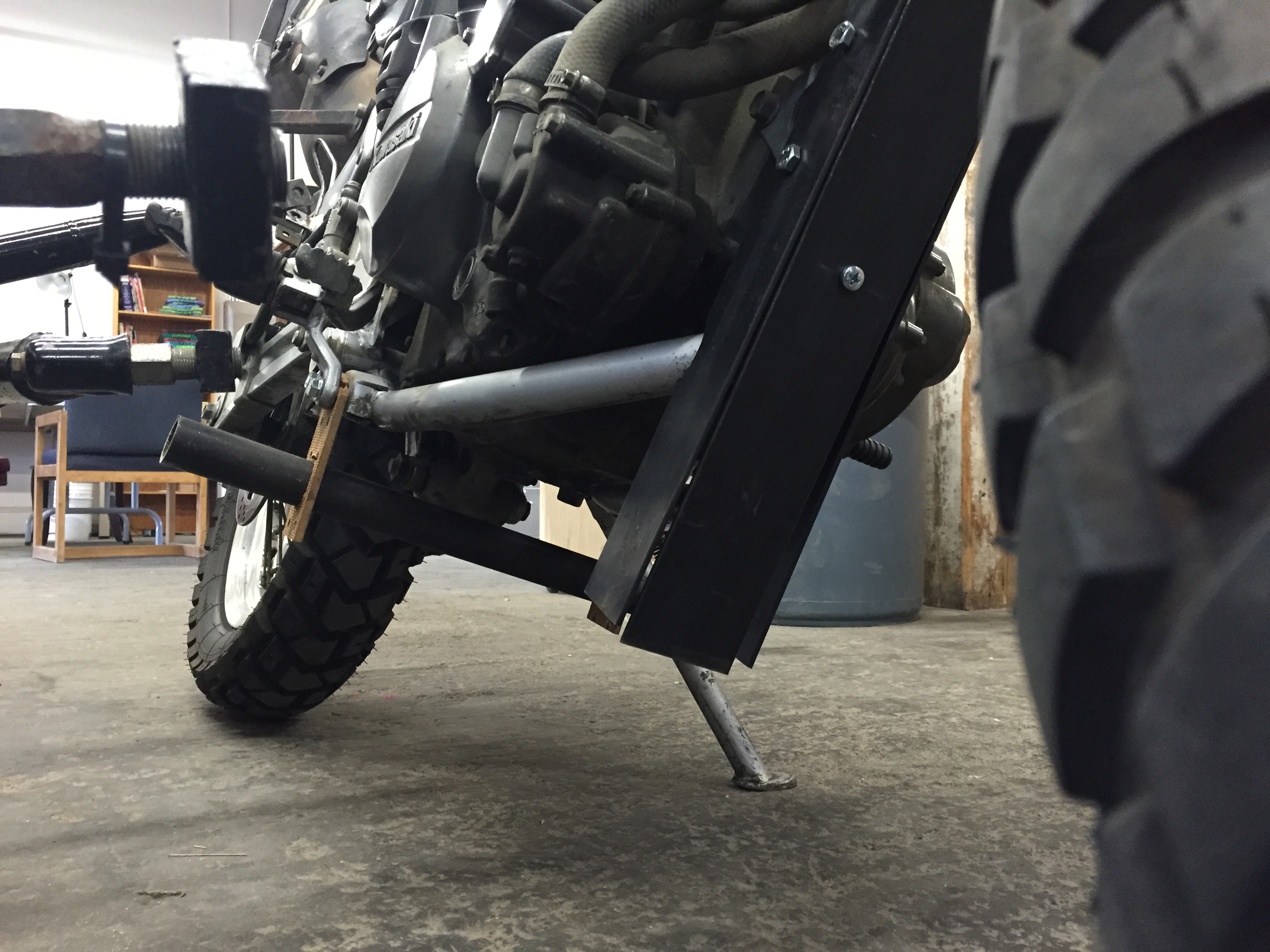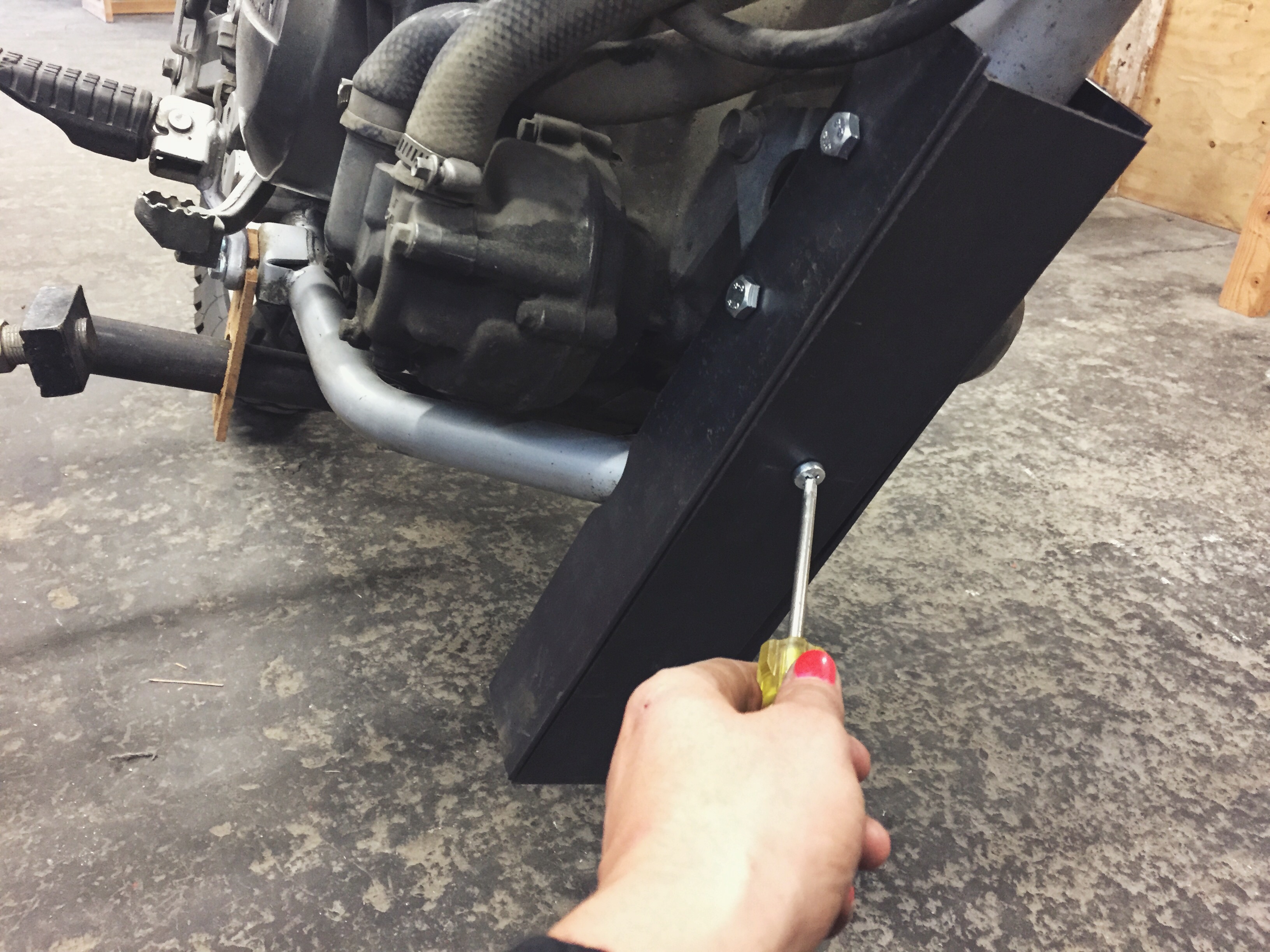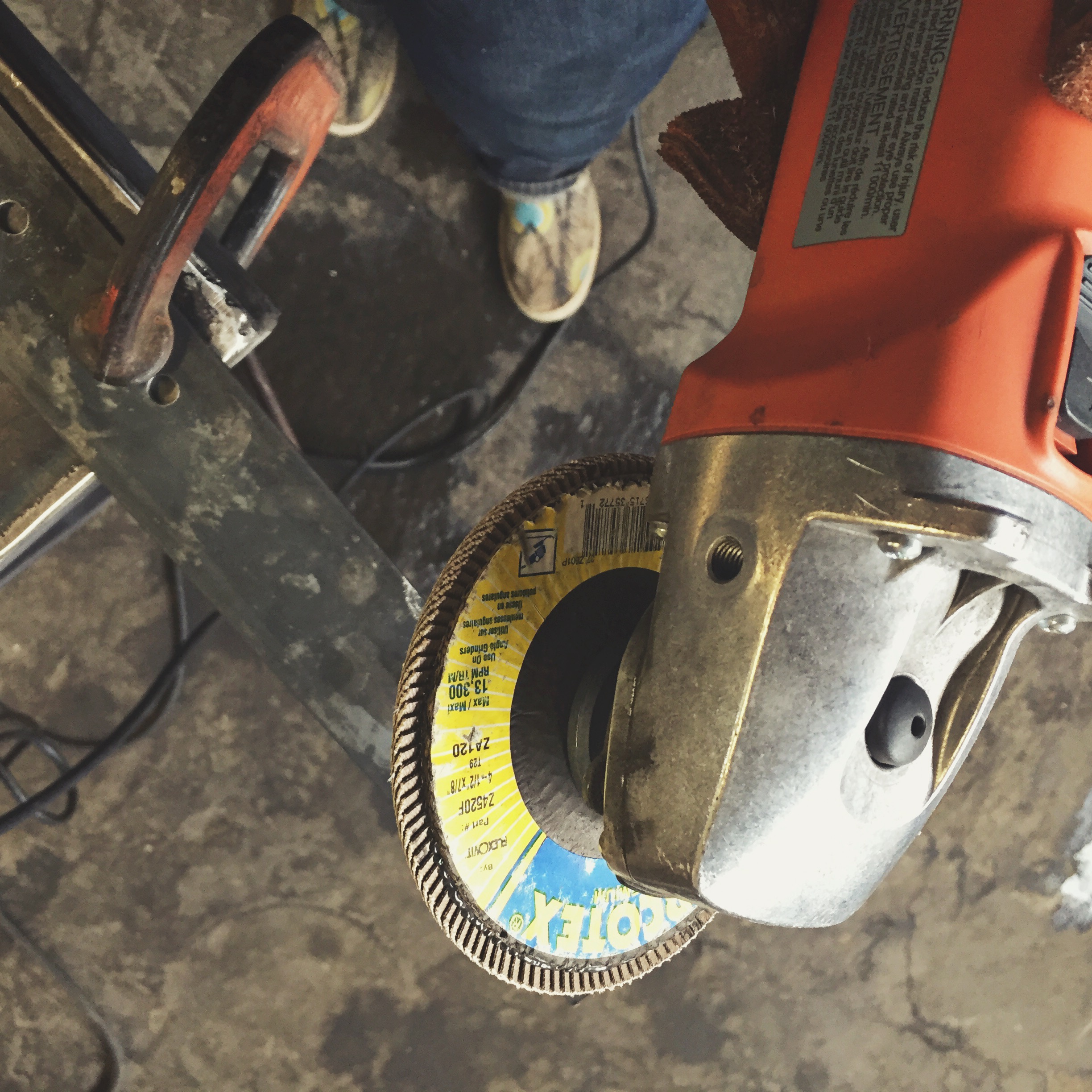 While I worked, Baylor practiced hanging out in the sidecar.
With guidance I learned to cut metal, weld it, grind it and create a subframe for the bike. I welded with Curry watching for approval and Curry welded some of the more difficult, mission-critical pieces.
All designs and ideas came from what research and images I could find online. Here are a few that helped give design ideas:
Resource 1
Resource 2
Resource 3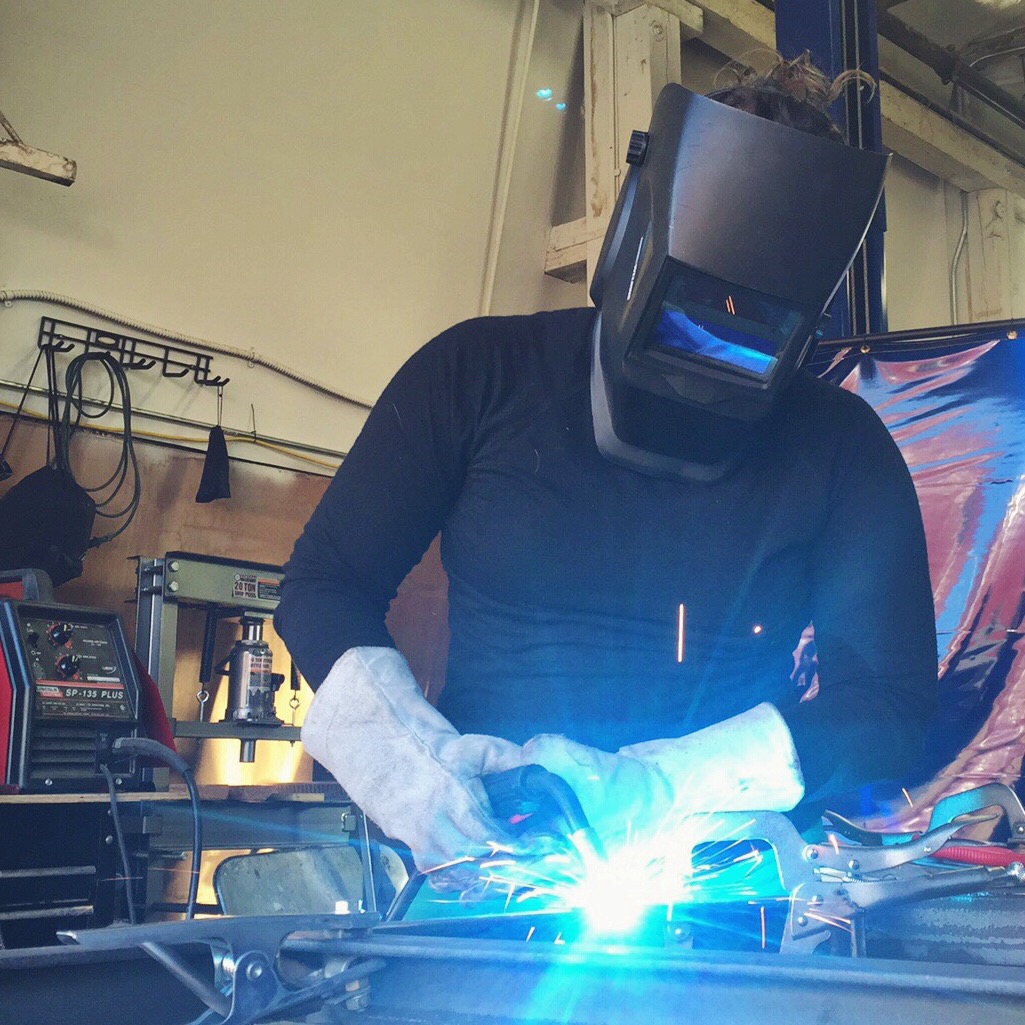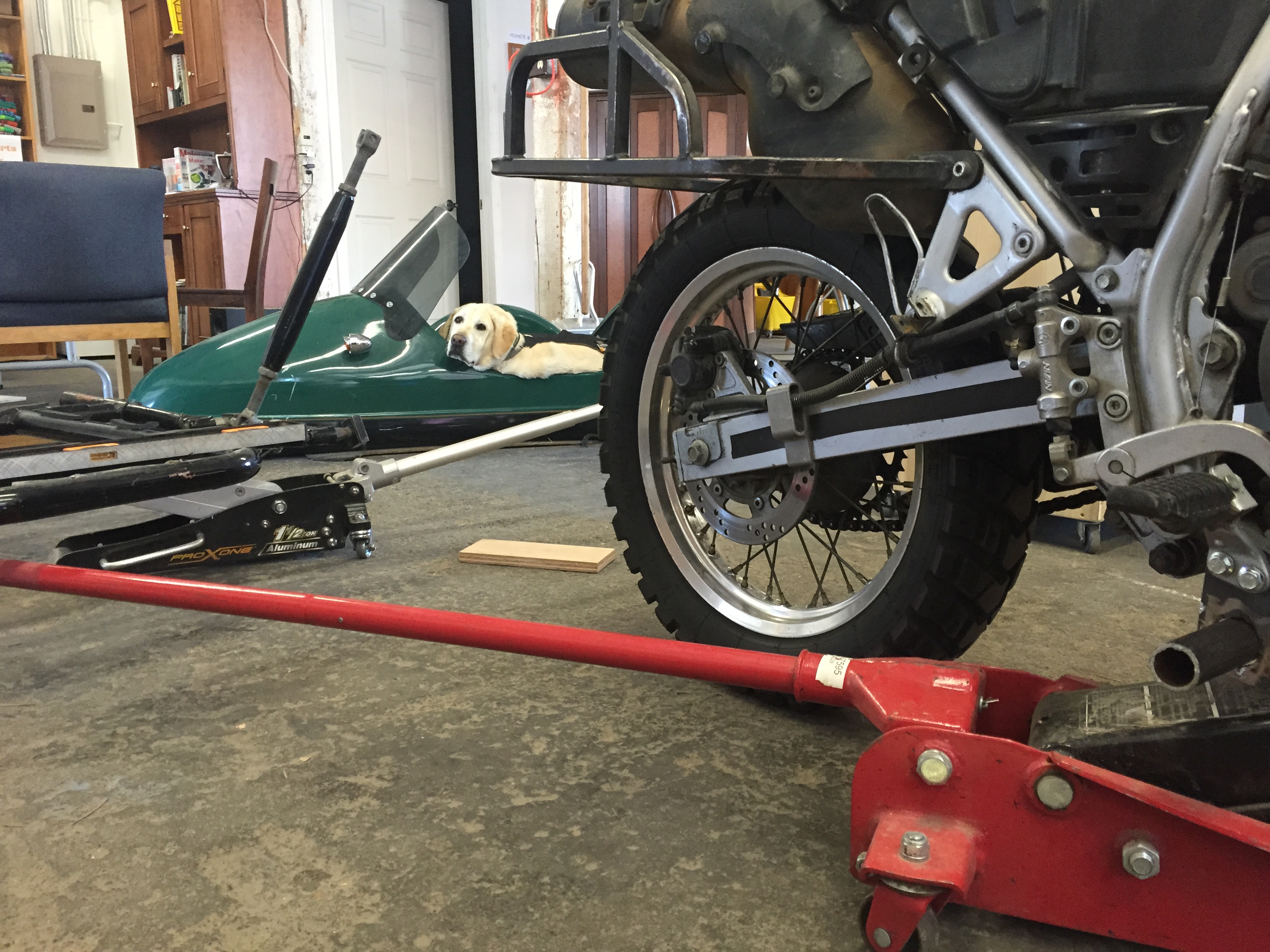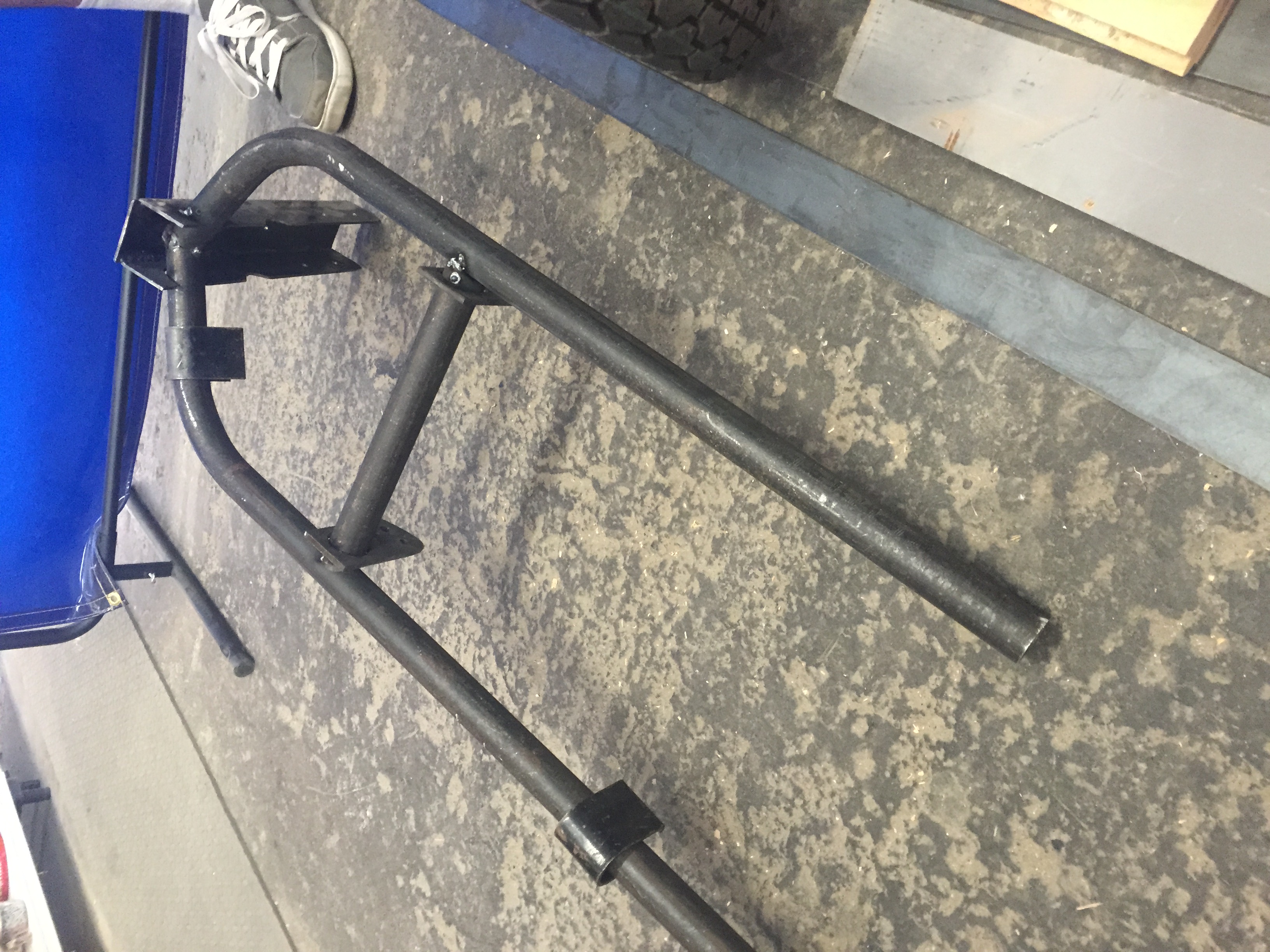 A Cave founder's daughter, Abby was my sidekick in the shop. She was in charge of brainstorming goggle ideas for Baylor.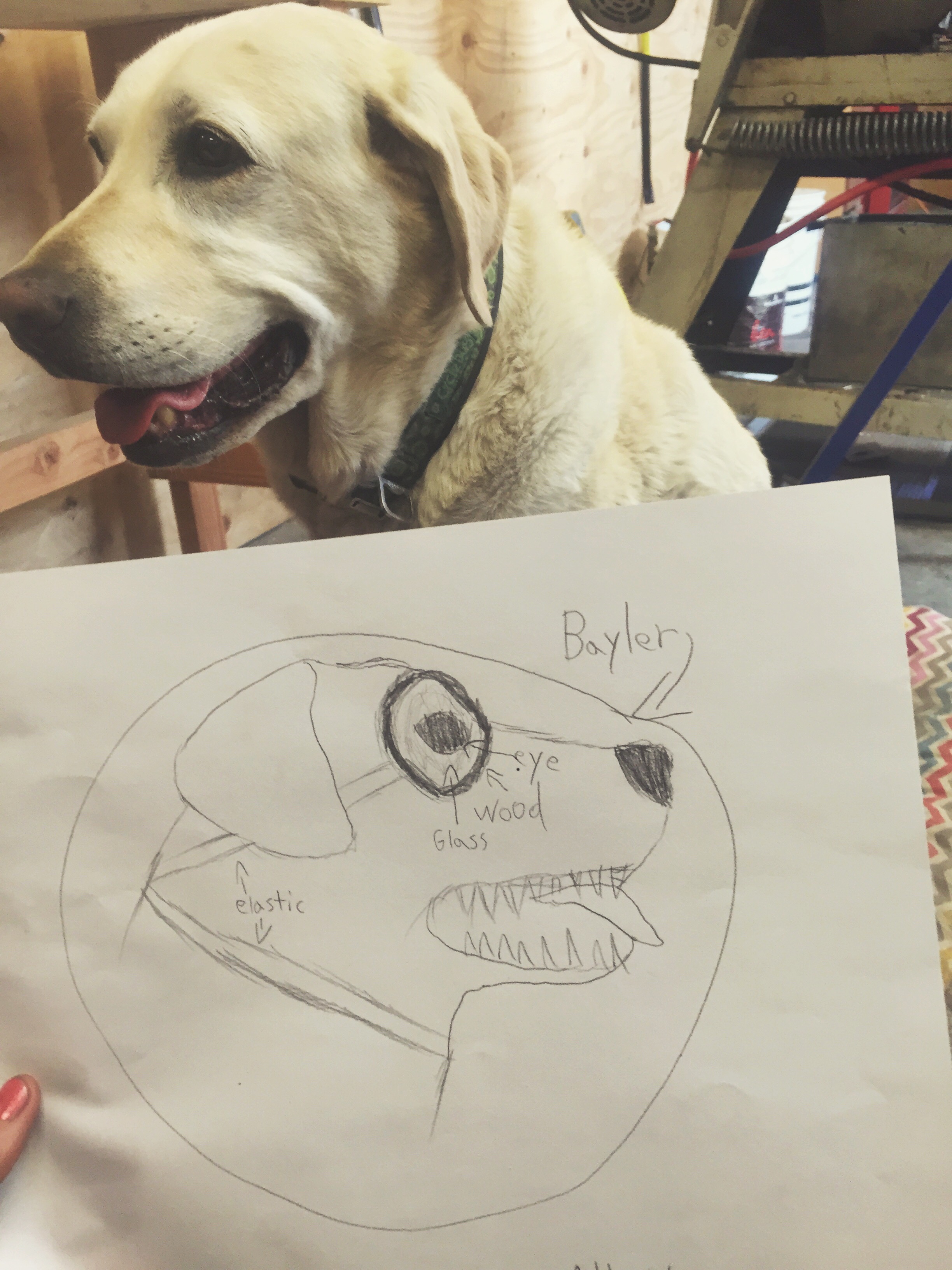 With a crafty background, painting and sewing was the only part of this project I knew I'd nail. I was confident I could come up with a fun design that would be better than mismatching greens.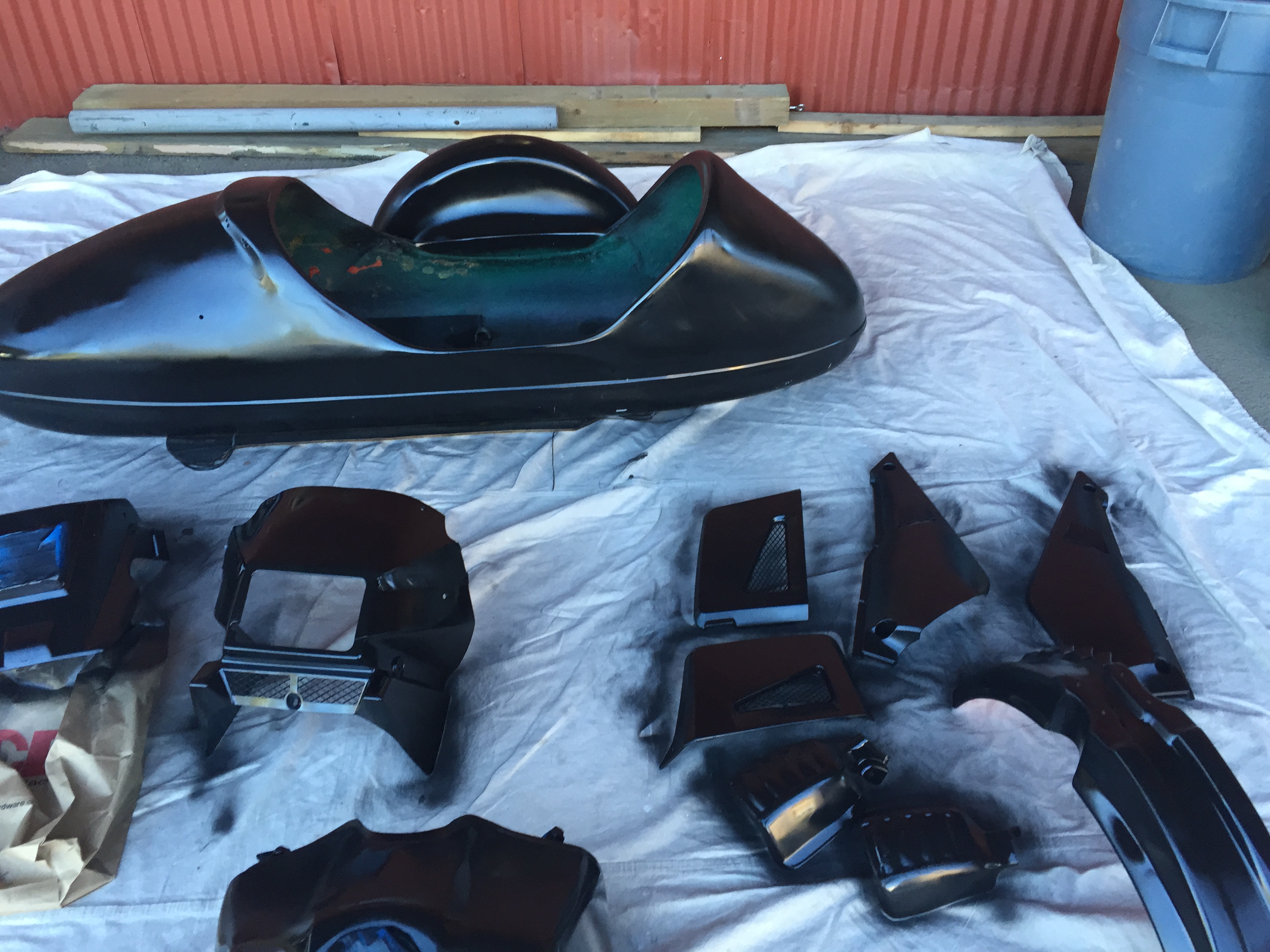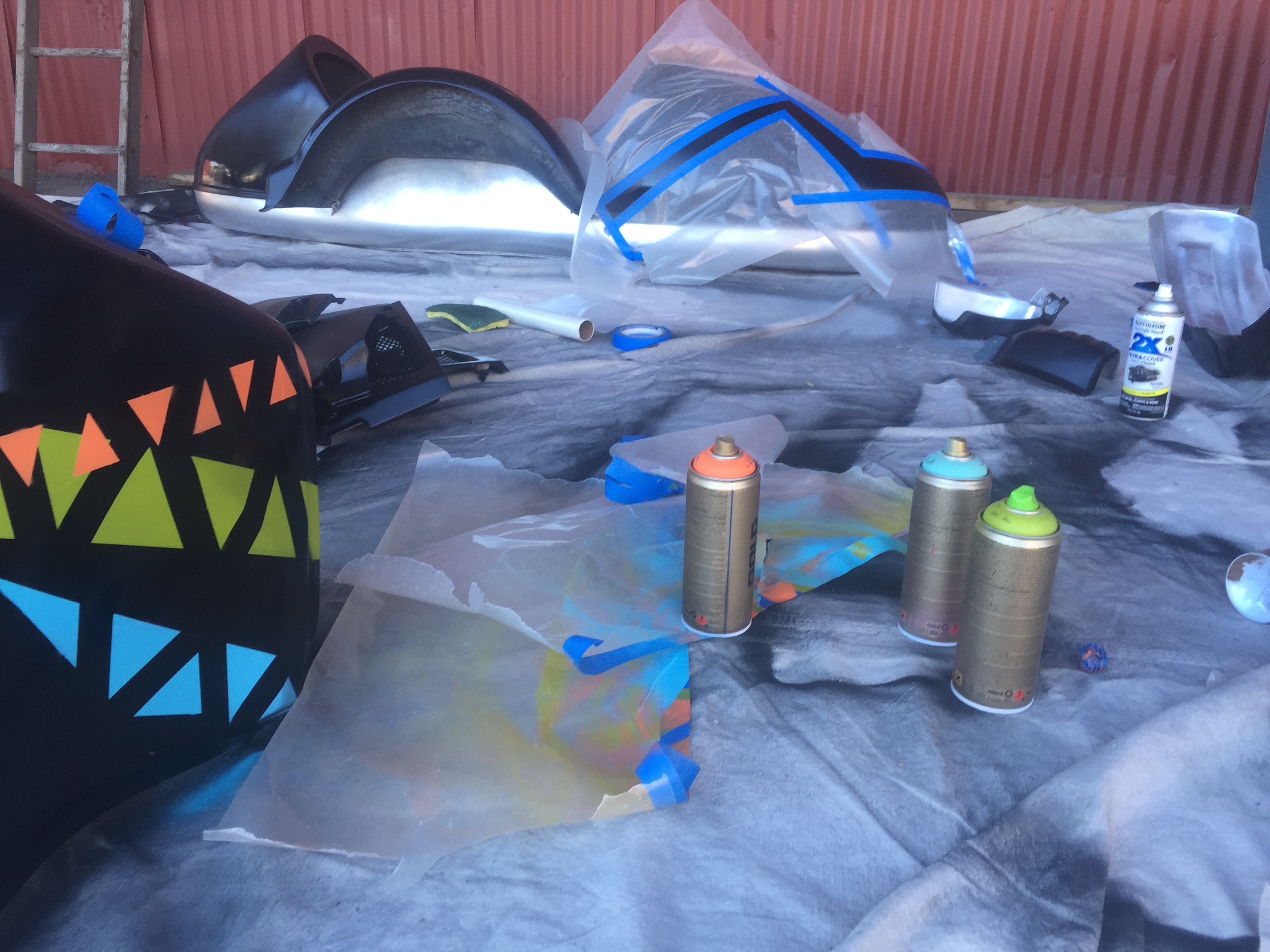 Paint dry, I adjusted toe in and lean out. Took it for a test ride. Readjusted toe in and lean out.
Loaded Baylor up and nervously rolled around the parking lot. He sat there nonchalantly as if he'd always been a moto dog. Laid down, bored with my slow driving. I laughed. Operation Moto Dog was really going to happen!