The shy, hermit-prone part of me is tempted to just keep rolling. Blast out of town, sending goodbyes and excuses later. Avoiding the awkward and unknown.
The gregarious, knowledge-seeking part of me hollers to let go of the fear, just go for it. Head towards the opportunity to turn strangers into friends. Embrace the unknown, give little thought to the awkward.
Emboldened by a love of good food and innate desire to learn from interesting people, I take a deep breath. Turn down the dirt road, park Rufio at the end of the lane, unbuckle Baylor, and knock on the door.
Enveloped immediately in warmth and kindness, thoughts of fleeing dissipate. Light to their dark, Baylor joins the pack of black dogs; sniffs, wanders, sprawls contentedly on the rug. Introductions made, I join the party; hydrate, fill my plate, contentedly join the flow of conversation.
With every bite the gears in my head whir faster. Not only is dinner outrageously delicious, but behind each morsel lies a story, a skill to be gained. I'm inspired by their connection to the land, the food source and widespread creativity. Enthralled by stories of hunting, of the extensive aquaponics greenhouse system that allows for an impressive year-round harvest, of fishing, of flying, of reaching an entirely new level of self-sufficiency.
And then the cookies are placed on the table. A hush falls over as the first bite is savored. Just the right amount of sweet chocolate upon chocolate. Oats mingling with subtle spices. Pistachios playing an unexpected, delicious role.
They seal the deal.
I'm glad that fear and discomfort didn't rule my decision making. Thankful that being brave and gregarious led me here tonight. The unknown rather tasty, the awkward nonexistent.
I fall asleep scheming of a return to Homer.
40 days down. Many to come.
Get Bonus Stories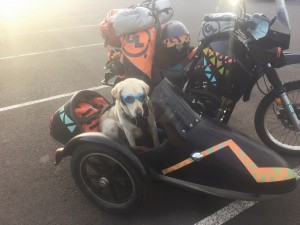 Each week we'll send you behind the scenes stories & pics from Operation Moto Dog.
Sign up below. –>
---