Feeling rather Alaskan, I pull the fresh snagged-by-me salmon from the hot coals. Share a tasty and satisfying breakfast with Baylor.
Camp packed up, goodbyes to the Anderson's made, we cruise towards town.
The prospect of hitting the open road for Anchorage causes a heavy feeling to settle over me. The ride from Hope to Homer is a blur of worry and stress, of looking down every few minute for assurance that the attachment was holding, of riding with a foot resting on the sidecar for early warning of anything going awry.
I haven't wanted to fully admit it to myself, but the kicking, jerking disconnect has left me rattled. Though I try to downplay it's memory, it was one of the scariest things I've experienced. As I limp from adventure to adventure, I'm unable to pretend it didn't happen. Though we made it through just fine, I'm acutely aware that the outcome could be quite different at highway speeds.
Luckily, I have a shop connection – space, tools and brilliant minds at the ready. Fueled by fear, I'm set to just weld everything together. Forgo the ability to make adjustments in exchange for assurance that the sidecar won't come flying off. Before I can make any hasty decisions Dean calls in a local sidecar rider.
Tapping on the thick metal I explain, "It's a ball-hitch connector. The flower thing inside is not properly providing resistance against the ball. Some part of the interaction between the bolt, flower, and ball is not right." I lack the technical verbiage to explain everything, but they get the gist.
With better understanding of how ball hitch connectors work and proper visual inspection, it becomes obvious that the bolts are too long. Pushing the ball mount right out of the socket instead of securely drawing them together. Grateful to be in a place filled with parts, owned by a man filled with generosity, we easily find an appropriate replacement in the shop.
The luxury of level ground and a floor jack at my disposal, I go about tweaking the lean out and toe in. Fiddle with each of the puzzle pieces holding Rufio together until everything is to my liking. Take it for a test spin and rejoice at how securely and smoothly it rides.
Having planned to depart today, I make a last minute change of plans. Accept the offer of dinner and a place to sleep.
As dark approaches we gather around the kitchen table. I've never played dice, but game-playing blood flows through these veins. It was a requisite that you get rowdy playing spoons, an early lesson to throw horseshoes with gusto, a right of passage to be invited to the card table. I goad Nathan to keep rolling, remain impervious to similar pressure, keep my eye on the scorecard. It's not enough for a victory, but I hold my own, come in second. G Bub would be proud.
Tucked in for the night, thoughts of solar-powered possibilities weaving through my mind, I marvel at my good fortune.
Awaking to a valley bursting with wild flowers. Spending the day successfully wrenching, fixing problems and learning lessons. Drifting to sleep in a converted school bus surrounded by mountains and glacial views.
The type of day I could not have dreamed of when I started this journey. The very reason I have the courage to continue riding this river of adventure, following the current to new places, people and possibilities.
39 days down. Many to come.
Get Bonus Stories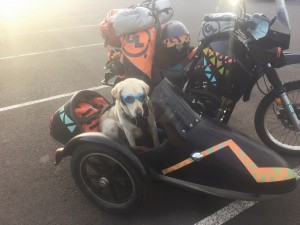 Each week we'll send you behind the scenes stories & pics from Operation Moto Dog.
Sign up below. –>
---