Waking to the clatter of rain I snuggle further into the sleeping bag. Stare at the orange ceiling that is now home. Wonder what we should do on this soggy day.
With the forecast calling for an all day downpour, I decide we might as well go into town, worry about drying out later. Checking that the tent is staked out properly, we gear up and hit the road.
Following the signs for a farmers market, I get excited. Even though space is limited on Rufio, I regularly hug jars of local honey, caress the fuzzy skins of perfectly ripe peaches, lust after beautifully canned preserves and vibrantly tasty greens. There's something special about food that is grown with care, about connecting with people who are invested in both the land and the community.
The volume and density of the rain increasing, I put my hood up, check that Baylor's raincoat is secure. Turning down the first aisle, a woman approaches, "Excuse me, is that a service dog? Only service dogs are allowed here."
In my mind's eye I'm a calm and skilled fibber. In reality, I freeze, get nervous, don't know what to say. It's just easier to tell the truth.
Having gotten so close to market bliss, we turn to leave. There's no covered place to park the rig and I'm unwilling to make Baylor sit in a downpour while I browse. Sometimes traveling on moto is not the easiest option. Sometimes having a furry sidekick complicates things. Sometimes I question if it's really worth it.
And then I remember. Moto life is outrageously fun. My furry sidekick is my best friend. There's a lesson behind each challenge, even if it's not obvious at first glance.
Already soaked, we head to the deserted beach. Legs stretch, mind wanders.
The cold air moves straight through my bones as I motor back to camp. By the time we reach the tent I'm shivering uncontrollably. Planning to once again create a nest, I hope I'll warm quickly, wonder how I'll possibly get everything to dry out by morning.
And then my Homer rent-a-family tells me to use one of the empty wall tents for the night, start a fire in the wood stove, and enjoy the night.
Wrapped in my napsack, I stand stoking the fire, absorbing as much heat as possible. Baylor chewing on a bone, clothes drying, I couldn't be happier. Perhaps this is the lesson for the day. To embrace the joy in the basic pleasures. To strip away the extraneous and see how simple it really is to have the good life.
Throwing another log on the fire, I crouch down, hug Baylor tightly, giggle at his exasperated sigh.
Warmth, gratitude, friendship.
The good life indeed.
37 days down. Many to come.
Get Bonus Stories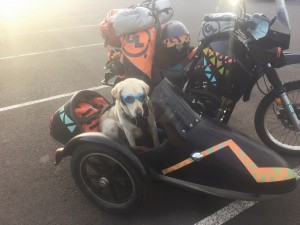 Each week we'll send you behind the scenes stories & pics from Operation Moto Dog.
Sign up below. –>
---