Without Warren the state of my cleanliness is a bit questionable. I head over to The Washboard to set things straight, jam every washable item I own into the machine to maximize my eight dollar investment and call it good.
A local strikes up a conversation. Informs me that this laundromat is a Homer hub of activity and asks what I'm doing, how I'm able to travel for so long. When I explain that I work on the road, he says, "Hmph, but then you never really get to escape from work." I shrug. I like it, wouldn't have it any other way.
Because even though I logged a full work day on the computer, I also:
Visited the Spit.
The man parked in the pickup truck looks over, "Whoa, you're a burly chick." Momentary silence as we stare at each other. "I'm gonna take that as a compliment, thanks," I reply. He nods as Bay and I turn and head for the water.
Enjoyed lunch and free wifi at the Fresh Sourdough Express.
Find out that the woman behind the counter not only started this restaurant years ago, she also founded Ah!laska chocolate and has a new book and project on the horizon. We're excited about each other's adventures and make plans to connect later.
Frolicked on the beach.
Howl with laughter at Baylor's look of shock as he rides a wave into shore. Grab the stick, get him amped up and do it all over again. Sprawl on the sand like a starfish. Skin toasty from the warm rays, nostrils full of tangy sea air.
It was just another day in the office and I can't imagine anything better.
34 days down. Many to come.
Get Bonus Stories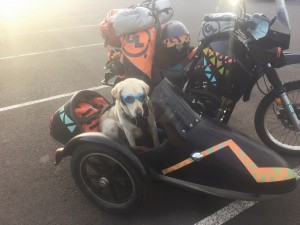 Each week we'll send you behind the scenes stories & pics from Operation Moto Dog.
Sign up below. –>
---