Shutting off the alarm, I roll out of the tent quickly, feed Baylor, pack up a few belongings. I don't want to be late.
I take opportunities to go on last minute adventures seriously, I've no intention of missing my chance to raft Six Mile.
Drysuits on, helmets secure, we start the adventure by leaping into the glacial water, swimming across the current, and floating to the eddy. Commitment proven the real excitement begins.
Archie is a skilled guide, easily flowing between telling stories, avoiding obstacles and calling out commands. Six Mile is an epic river, icy waters twisting, turning, raging through steep canyon slots.
River run complete, talk of the evening's softball game comes up. Invite accepted, I assure them I'll be there as I head back to camp.
As night set's in, Baylor and I load up and head over to the ball field. The morning's raft trip didn't worry me in the least, but the thought of playing ball fills my stomach with nervous butterflies.
Teams assembled, the friendly banter begins. My turn in the rotation comes up. I step up to the plate, doing my best to emulate the players before. Ball lobbed my direction, I swing and am rewarded with a satisfying clunk. It's not a home run, but I get to first base. Breathe a sigh of relief.
The real moment of glory comes during a turn in the outfield. Skilled batter taking his place, everyone warns that it could go far. Ball flying high through the warm night sky, I position myself underneath and am rewarded with with a satisfying thump. It's not a double play, but I catch the pop fly. Breath a sigh of relief.
MVP awards aren't given out, but I feel satisfied that I made up for the year I played t-ball and spent every outfield rotation practicing my cartwheels and batting rotation trying to climb the fence.
I'm still the same unruly girl at heart, but I'm learning the game, trying to hold my own.
30 days down. Many to come.
Get Bonus Stories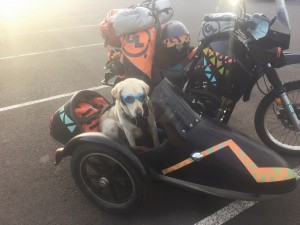 Each week we'll send you behind the scenes stories & pics from Operation Moto Dog.
Sign up below. –>
---