How does it look from your angle?
We're lying on opposite sides of the the bike, shining a light into the oil drain. Like a road long forgotten, the threads are faint reminders of what had been. The mystery of the missing drain plug, no longer much of a mystery.
Helicoil time.
Tom's got the know-how, now we just need the part. No luck at the neighborhood auto parts shop. Call a store across town, they don't have anything that large. Swing by a fastener specific warehouse, the pitch is wrong.
I follow Tom around wide-eyed as he brainstorms the next option. Not only would what we've accomplished in this last hour have taken me an entire day of internet research, I would've been completely out of ideas after this string of part-seeking strike outs.
Seeing a bike parked in front of an auto shop he veers off the road.

Looks like Chad is here, let's check with him.
In addition to being a top-notch mechanic, Chad turns out to be a renowned rider and fantastically helpful contact. I'm hopeful this meeting is just a serendipitous introduction as I'm sure I could follow wide-eyed soaking up knowledge from him.
But that's a project for another day. Right now we have parts in hand and a job to finish.
Mission accomplished, we fire up the bike. It sounds worlds better than it did 72 hours ago. Nothing's guaranteed, but that's life.
We make a plan for the test-run adventure. Explore the Kenai peninsula, hit up Homer and return to Anchorage to give Rufio another look over.
Right now I've got a plane to catch. My sister's getting hitched; it's time to put on a party dress, scrape the grease from under my nails, and celebrate.
22 days down. Many to come.
Get Bonus Stories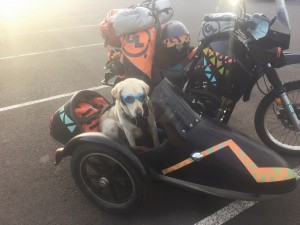 Each week we'll send you behind the scenes stories & pics from Operation Moto Dog.
Sign up below. –>
---