Out of my peripheral I can tell the guy is looking at me from across the room. The kind of look you give someone when you're just dying to know what's making them so damn happy. Did they just discover the best cat video? Get a crush-tastic email?
Felines don't really do it for me and there is no sweetheart pen pal. I'm grinning for completely different reasons as I shut down my laptop and head back to the tent.
I've just spent the morning searching for possibilities. Looking for ways to turn obstacles into opportunities and get to Anchorage. My stress level going up, heart sinking at the financial realities of renting a uhaul.
I check my messages and am once again shown the outrageous goodness of complete strangers. Offers of a place to stay, help with renting a truck, cheers of encouragement to keep going, to stay happy.
Go back and forth with the stranger/soon-to-be-friend who has offered to haul us from Tok to Anchorage. Feeling uncomfortable asking, afraid to be a burden, I take a deep breath, message him with the question, "If I could cover gas roundtrip Tok to Whitehorse would you have any interest or availability to come get us?"
It's a long shot. I'm not even sure how often he checks his messages.
And then I get a reply that shows, like my roadside saviours, this is the type of person who not only has the tools to make things happen, but the positive attitude to make it fun.
I'm grinning at the glow of my screen as I read a message – from a complete and total stranger – that goes like this,
"All right, operation Rufio Rescue about to get underway.
It's roughly 12 hours from my place to Whitehorse, we should have you in Anchorage on Monday morning if all goes well.
Regarding "awe" and "thanks" – this is Alaska. We look out for each other. Just pass it on when the opportunity presents itself."

Buoyed by this turn of events, Baylor and I snuggle in the tent to escape the constant downpour of the day. Listening to the rhythmic pitter patter, I'm filled with excited nerves. At this new opportunity to turn so many kindly strangers into lifelong friends, to finally make it across the border into Alaska, to reach the Anchorage stronghold and begin my motorcycle schooling.
It's not at all how I had imagined it would be.
It's much, much better.
18 days down. Many to come.
Get Bonus Stories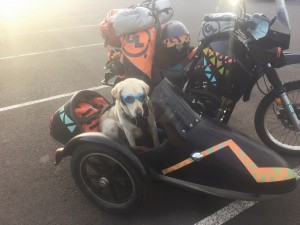 Each week we'll send you behind the scenes stories & pics from Operation Moto Dog.
Sign up below. –>
---