I don't even flinch as the semi rumbles past. Just stand there in a cloud of dust, staring in disbelief. Wondering if I should vomit or cry. Deciding neither will do any good, I begin to pack essentials into my backpack. Trying to calculate how long it will take to walk 30 miles.
A rider pulls over. I explain the situation. There's nothing he can do to help. He checks that we have enough food and water. Heads south.
We'd been cruising along, making great time, when suddenly Rufio started almost imperceptibly to lose power. I glanced at the mileage, we shouldn't be out of gas. It sputtered a bit, I pulled over completely confused. Double checked, yes we have fuel. Started digging for my Clymer to get ideas. Noticed a puddle of oil and dropped to the ground.
The drain plug is missing. Completely gone. A vacant hole remains, oil dribbling out.
I don't know a lot about engines yet, but I know oil is crucial. That running dry could kill Rufio and my Alaskan dreams. Obsessively checking the oil level has been the one thing I'm good at. I'd topped it off 100 miles back when stopping for gas, feeling good that we were ready to roll.
The only thing I can think to do is get to town, try to get a tow, hope the engine isn't wrecked. Slinging my bag over my shoulder, I reach down to unlatch Baylor when two men pull up.
"Having troubles?"
"The drain plug is gone," I holler over the rumble of their heavily loaded KLRs.
"Lucky you. I've got a spare."
I just stare at him silently. Not in the mood for jokes.
Reaching into a pocket he pulls out a spare KLR drain plug, puts it in my hand. In shock, I just stand there.
"Wait a sec, needs the washer, too," he says jovially.
"Ohmygod, this…this is amazing. But I don't have any oil left."
He looks at his buddy. "I've got a half bottle. Mike, don't you have a full one?"
Hands the plug to Mike as I'm still just standing there staring. Unable to process that John and Mike happened to pass by at the exact right moment, with the exact right spare part.
Plug snugly in place, I pour the oil and put the key in the ignition. Timidly press the starter, afraid of the outcome. I press again, Mike reaches over and gives it a healthy rev. It fires right up. We let out a cheer.
Continued concern still showing on my face, Mike reassures me, "sounds like your valves need adjusting, but you should be just fine now."
We hug, cheer, shake our heads at my good fortune.
In my excited state, I forget to get their address, email, any way to properly thank them and repay their kindness. All I know is this, Mike Carpenter and John Thomas have been planning this trip from their home in West Virginia to Alaska for years. And now that John is retired, they're living their dream. Touring Alaska a grand success, they're now headed south hoping to stop through Klamath Falls, Oregon and pay a visit to Mike's nephew in California. They have the tools and parts to fix almost any issue and the positive attitudes to actually make it fun. If you know who they are, I'd love to be able to contact them. If you pass them on the road, take a moment to say hello to these truly amazing gentlemen. You won't regret it.
Adrenaline pumping through my veins, I throw all my belongings back on the bike. Give Mike and John a final wave as they head south. Give Rufio a hug, Baylor a treat and get back on the road to Alaska.
Thank you karma. I owe you.
15 days down. Many to come.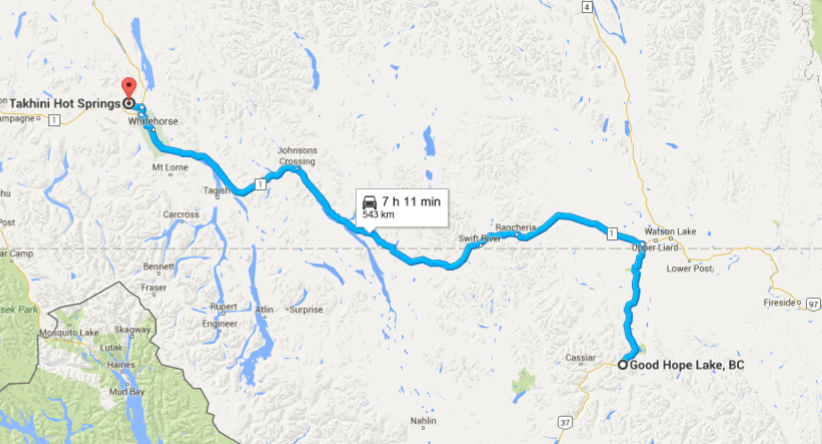 Get Bonus Stories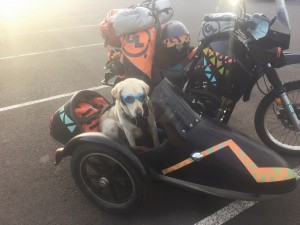 Each week we'll send you behind the scenes stories & pics from Operation Moto Dog.
Sign up below. –>
---