"Hey, little girl. Are you going to get up this morning?"
I stir awake.
"Little girl, I need my laundry rack back."
I have a moment's deja vu. To yesterday evening when I was dozing off, only to be awakened to the sounds of Warren, the kindly groundskeeper at the campground.
"Hey, little girl. Are you awake? I've brought a drying rack for your clothes."
I was pretty impressed that in my exhausted state I'd been willing to fork over three loonies, squirt some JTree in the machine and lay out the wet clothes on the picnic table. Warren, apparently, was not.
I suppose someone needs to care about the state of my cleanliness. And that someone is going to be Warren.
Having put away the clothes, I began taking down camp. Other campers stirring, packing up and heading out. I'm enjoying the rhythmic task of folding up the tent poles, when a large RV pulls by. I look up, noticing that on of their side storage hatches is wide open.
Wanting to just get out on the road, I hesitate, tell myself someone else will surely alert them. Then I sigh, put my half folded poles down and run across the campground to catch them before they leave.
You hear that, Karma? I did the right thing.
The road towards Smithers, BC is surprisingly beautiful. I drive hesitantly for the first hour slightly nervous about my abilities to have properly installed the chain. But it holds up great. Feels like butter. I open the throttle and we fly towards the mountains.
We log about 30 kilometers on dirt road. Concerned about the bumping washboards I look over at Baylor. He's curled up, sound asleep, completely unbothered. So I carry on. Pull up to the lakeshore at what feels like 8pm dusk, but is actually 10:30pm dusk. We're in north country now. The days are long, the nights short and the countryside increasingly wild and rugged.
Twelve days down. Many to come.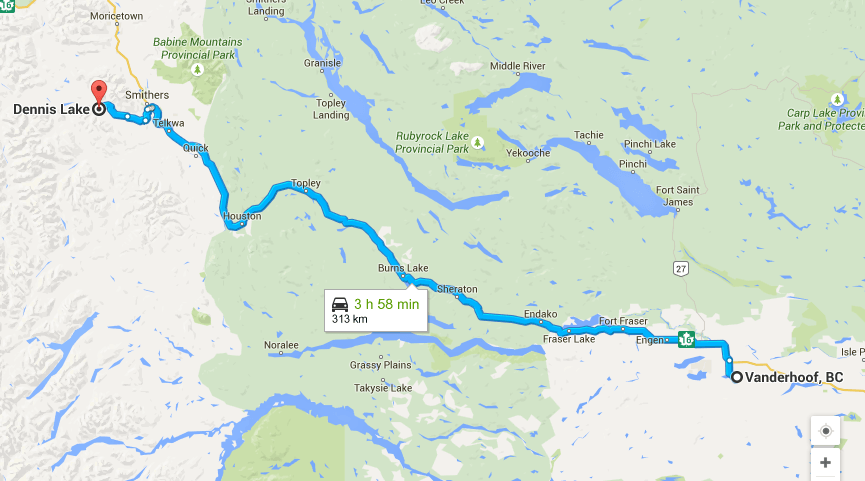 Get Bonus Stories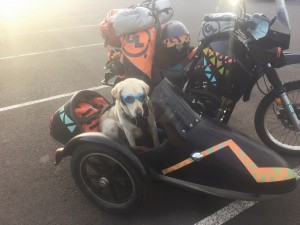 Each week we'll send you behind the scenes stories & pics from Operation Moto Dog.
Sign up below. –>
---