Revving the engine for the first time, I was full of nerves. My best friend and constant sidekick for the past 10 years, sat to my right, looking up at me expectantly. Letting out the clutch, we rolled slowly. I looked ahead, looked to the right. Looked ahead, looked to the right. Baylor peered up at me through blue tinged lenses. Let out a sigh. Laid down and went to sleep, thoroughly unimpressed with my slow parking lot cruising. Grinning, I shook my head. Apparently this pup of mine was meant to be a moto dog. It was the first moment I really knew Operation Moto Dog was going to happen.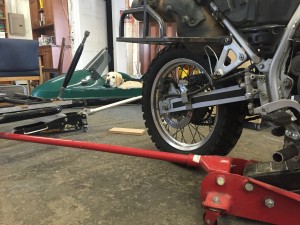 Days later, having finished connecting the sidecar and motorcycle, we packed up our belongings and headed North. Armed only with a vision of the adventurer I wanted to become and the best sidekick a gal could as for, I aimed for Alaska. Figured we'd quickly learn if I really had what it takes to camp night after night, to get off the beaten path, explore wild lands and live life on the road.
Now, after making it to Alaska, expanding the mission to encompass all of North America, living on the road for more than 250 days and logging nearly 15,000 miles, I can say that this adventure has truly transformed from a simple road trip to a life changing mission. As I've said time and time again, we owe this transformation to the people on the road. To the countless people we meet everyday. The ones who smile, wave, say hi and take a minute out of their day to send words of encouragement. These strangers-turned-friends keep me going each day, enrich the adventure and have genuinely changed my life.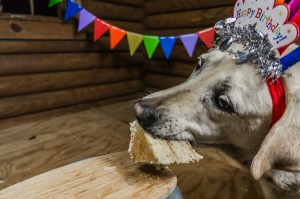 And while I can't imagine this adventure without Baylor at my side, only recently did I fully realize just how paramount he is to the dream becoming a reality. When imagining this moto dog dream, it was with Baylor as the sidecar passenger. Not just any dog, but very specifically Baylor. And with birthdays in the double digits, I understood it was now or never. No regrets, just a commitment to adventures with my best friend.
And lucky for me, Baylor loves the moto dog life. Happily rides passenger. Grins and poses for picture after picture. Frolics on beaches, hikes through forests, explores back roads. Lives each moment with awe-worthy gusto.
Rocking the goggles, he has won people over across the globe. And not surprisingly, most questions we receive revolve around Baylor. Here are some of the most common sidecar dog queries.
How did you train him to ride in the sidecar?
Prior to hitting the road, Baylor spent days lounging in the sidecar while I worked in the shop. We established a routine so that once he's in the sidecar, has his Load Up Harness and goggles on and gotten a treat he's not allowed to get out until I give him the okay. And most importantly, he gets a cookie every single time he loads up.
He thinks of the sidecar as his "bed" and is completely content in it for hours. He can ride comfortably for longer than I can!
What happens when you ride through the cold and rain?
Between the windshield and the open compartment in the nose of the sidecar, Baylor is able to get out of the wet and cold for the most part. Tucked in he's blocked from the wind entirely and stays impressively dry, too.
And when the weather turns we pull over immediately and bundle up. Baylor stays toasty in his Quinzee Insulated Jacket and dry in the Sun Shower Raincoat. And when it was cold and wet in the Yukon, we layered the two.
Does he like it?
He really does. When we're slowly driving down dirt roads looking for a trail or a place to set up camp, he loves sitting up, ears flapping in the wind, sniffing the foreign air. When we're cruising on the highway, he curls up and settles in for a nap. At camp sites he can't wait to run around taking in all the new smells and at every stop along the way he turns strangers into friends.
What do you do when you want to go somewhere that doesn't allow dogs?
Baylor's been my sidekick for years, so I'm used to always looking for a lunch spot that has a patio or keeping an eye out for good parks and dog-friendly trails. Being a rather relaxed dog, he's happy to wait patiently outside while I run in to grab a coffee or get directions.
Sometimes, though, the weather doesn't cooperate, we can't find a covered parking spot or there just aren't any dog-friendly options, so I skip going to the market or wandering through a museum. It does take extra work to travel with a canine companion, but the love and joy I get from his company is well worth it. And luckily, most of my favorite activities – hiking, camping, exploring – are ideal for a dog.
How old is Baylor?
In January Baylor turned 11. I went full into crazy dog lady territory and we celebrated with homemade cake and a puppy party. It was hilarious and worth every minute of effort.
What does he eat? What do you do if you're on the road when it's dinnertime?
Right now Baylor mostly eats Arcana dry dog food. He prefers to eat promptly at 5pm and has a very impressive inner clock. I do my best to feed him on time each day, though he sometimes he eats a bit earlier or later.
How long have you had Baylor?
Starting in third grade, I had a dream of having a yellow lab. Even as a child, though, I took the idea of a dog very seriously and was adamant that I wasn't yet ready to give a furry friend the life I envisioned. During my freshman year of college I decided I was ready and went to look at a group of puppies. Many of them came careening by, but Baylor just came and sat right in front of me. With a squishy, sleepy face he looked up at me as if to say, hold me. And I just knew he was the one. We've been pretty much inseparable ever since that day more than 10 years ago.
Where did the name Baylor come from?
As I often tell people, it's spelled the same as the university, but not inspired by. I honestly don't recall where the name came from exactly. It was simply a name I liked and when I saw him for the first time, just knew it was right.
Do you have any nicknames for Baylor?
I recently realized that I call Baylor some strange nickname about 62% of the time. Much to his annoyance these nicknames are often sang out or incorporated into a strange impromptu song. What can I say, things tend to get weird when you're on the road or alone in the woods for an extended time. Nicknames include, but are not limited to, Polar Bear, Lambert (the sheepish lion), Smacky Bear, Ratatouille, Raccoon, and Sheepy.
How did you get Baylor to wear the goggles?
Honestly, I did not think Baylor would wear the goggles, but figured it was worth a try. We went into the pet store and I put them on his face thinking he'd paw them off immediately and we'd go without goggles. Much to my shock, he happily wore them around and has never had a problem with the goggles. Yet another sign he was meant to be a moto dog.
How did you train him to ride in the sidecar, a boat, a paddleboard, etc.?
Two things helped make Baylor into an ideal adventure sidekick.
1. We started very early. From the time he was a puppy I took him everywhere. Had young children crawl all over, made him ride in the car everywhere, put him in a boat and so on. Weird adventures became his norm.
2. For better or worse, Baylor is extremely food motivated. All activities are bookended with cookies. Get in the sidecar, get a cookie. Hop into the boat, get a cookie. Go to bed and don't get up until I tell you good morning, get a cookie.
I'm certainly not a dog expert nor is Baylor always perfectly behaved, but we get along well enough. Have found that lots of time together, exposure to adventures and plenty of snacks keep us happy.
I know there will be much to discover in the coming days, weeks, months and miles. There is still so much I haven't seen or experienced. Each day on the road is different, but no matter what I know it will be a good one with my best friend at my side.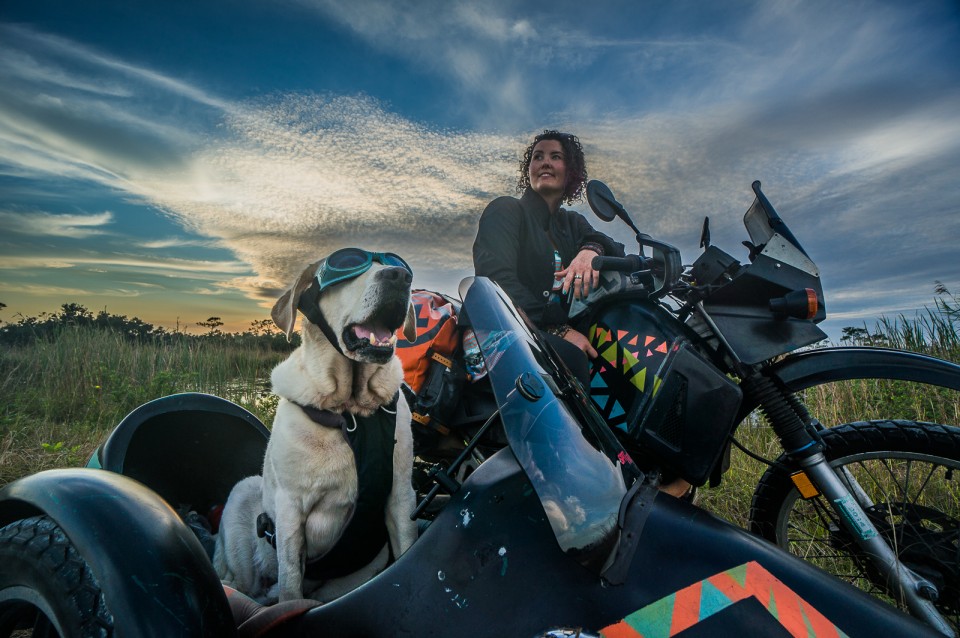 Want to know more about the Operation Moto Dog adventure? Go here to read the answers to common questions including my age and what my family thinks of this journey.
Have a question about Baylor? About the Moto Dog Life? About the adventure in general? Let me know in the comments and I'll add to the list. Thanks!