After spending more than 400 days motorcycling across North America with my awesome dog Baylor (read more about that here), I'm often asked for advice on gear for your furry sidekick. Below you'll find 9 of our favorites. Hope this helps!
1. Ruffwear Load Up Harness – Meant as a canine car restraint, the Load Up Harness is a vital piece of gear for road trippers of all manner. I wrote a full review of it on Gear Junkie and am happy to report it withstood more than a year's worth of constant use and abuse.
2. Kibble Kaddie – This bag makes storing and serving your dog's food both simple and stylish. Pour food into the top and dispense easily through the pour spout. The pour spout closes with a magnet which usually works great, but when crammed into a tight space sometimes pops open, unintentionally spilling food. When in used in normal car conditions, though, I never had a problem with spillage.
3. Buckley Pet Treats – The one constant on the road – treats. Baylor got a treat when loading up, when getting out, when sitting nicely on a coffee-shop patio, when looking sadly hungry and when snuggling into the tent at night. Buckley's pet treats are tasty (or so Baylor says) and made in the USA. I like the jerky ones best as they stand up well to being crammed in the tank bag or stuck in a pocket.
4. Bivy Bowl – This bowl is my favorite. It packs down flat, can be clipped to your bag and holds a good amount of food or water. Though be warned its flat frisbee shape makes it fly fast and far. I learned that the hard way and lost a couple to highway cruising and poor packing.
5. Acana Dog Food – There are a lot of dog foods out there and I'm certainly no expert. Baylor eats most anything, but also happens to be quite sensitive to allergens. This food seemed to help with his itchy skin and he happily gobbled it down.
6. Sun Shower Waterproof Dog Jacket – Being exposed to the elements means riding in the rain. When we couldn't avoid a soggy ride, Baylor happily donned this rain jacket, tucked into the nose of the sidecar and stayed impressively warm and dry.
7. Climate Changer Fleece Jacket – This cozy jacket can be layered under the rain jacket (above) for days that are both cold and damp. With a full zip it might not work for dogs with a very large neck, but its soft and flexible nature makes it perfect for cold hikes and frigid camp nights.
8. Highlands Dog Sleeping Bag – I love this doggy sleeping bag because it kept me warmer at night. Up until getting it, I was trying to wrap my sleeping bag around Baylor and inevitably waking up cold and uncomfortable. Once we had this though, we could just zip up and spend the night warm and happy. Its also great for lounging on patios and camp sites.
9. Doggles Dog Goggles – We picked these simply because they are what was available in our local pet store at departure. I've since seen other designs, but these worked well for us the entire trip. With the chin strap they stayed in place pretty well, though ensuring the right size for your dogs face is essential.
For more gear reviews and recommendations check out:
– OMD Gear Favorites | Camp Gear
– My List of 10 Gear Favorites on Gear Junkie
Happy Adventuring!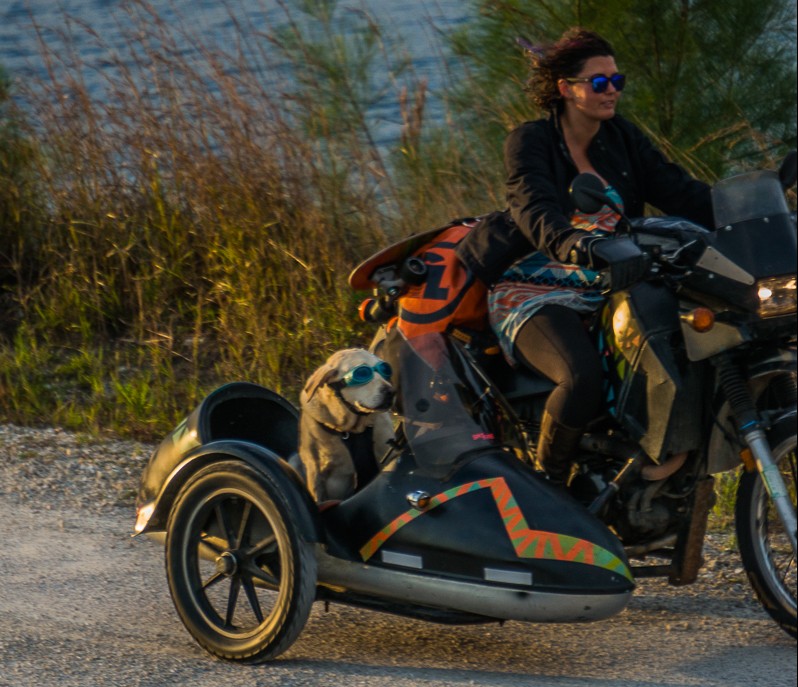 ---
"It is never too late to be who you might have been."
— George Eliot